Remembering Robley Rex This Memorial Day

I had the privilege of knowing and representing Robley Rex, an American hero. Robley Rex lived to be 107 and was a veteran of World War I, living most of the rest of his life in my district in the Oklona area. He is a true American hero because he served his country honorably and faithfully, and upon his return, he spent his life in service to veterans.
In April I attended the ceremony for Robley Rex, honoring him for his many hours of service to veterans and for the re-naming ceremony of the Veteran's Hospital officially to the Robley Rex VA Medical Center. He will be remembered forever for his endless volunteer service to the hospital. In his remarkable lifetime, he logged more than 14,000 hours of volunteer service and he will be forever missed.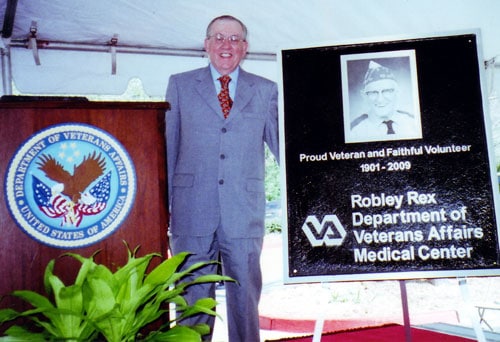 Robley Rex died just a few days before his 108th birthday. I had the distinct privilege of honoring him on the House floor upon his 100th birthday in 2001. We also adjourned the House of Representatives in his honor in 2005 for his many contributions he made to his community, his Commonwealth and his Country. Robley Rex was a true American hero and I will never forget his service.
Click here to read the Legislative Citations.