Clark's Support for Jefferson County School's Teenage Parent Program
Reader Letters | Clark's  SMART support
October 21, 2010
I recently retired as the project manager for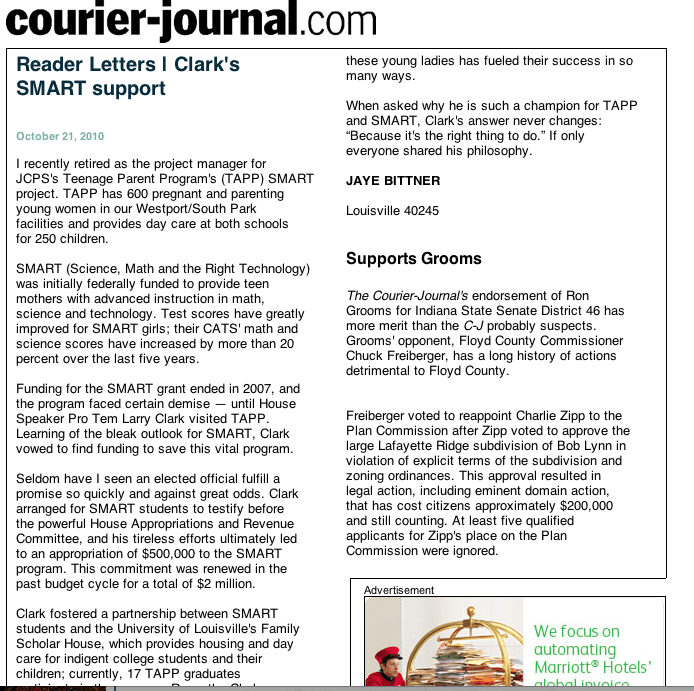 JCPS's Teenage Parent Program's (TAPP) SMART project. TAPP has 600 pregnant and parenting young women in our Westport/South Park facilities and provides day care at both schools for 250 children.SMART (Science, Math and the Right Technology) was initially federally funded to provide teen mothers with advanced instruction in math, science and technology. Test scores have greatly improved for SMART girls; their CATS' math and science scores have increased by more than 20 percent over the last five years.
Funding for the SMART grant ended in 2007, and the program faced certain demise — until House Speaker Pro Tem Larry Clark visited TAPP. Learning of the bleak outlook for SMART, Clark vowed to find funding to save this vital program.
Seldom have I seen an elected official fulfill a promise so quickly and against great odds. Clark arranged for SMART students to testify before the powerful House Appropriations and Revenue Committee, and his tireless efforts ultimately led to an appropriation of $500,000 to the SMART program. This commitment was renewed in the past budget cycle for a total of $2 million.
To read the full editorial, click
here
.