Governor Signs Public Safety Reform Bill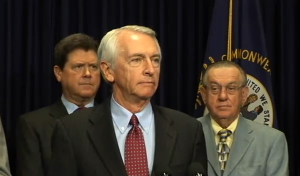 Governor Steve Beshear signed into law a broad series of reforms that put Kentucky at the forefront of states advancing research-driven, criminal justice policies designed to protect public safety, hold offenders accountable and control corrections costs. The Public Safety and Offender Accountability Act, House Bill 463, was a strong bipartisan effort, passing the Senate unanimously and the House by a vote of 96 to 1. State Representative Larry Clark was a co-sponsor and strong supporter of the legislation.
"Senator Jensen, Representative Tilley, Senate President Williams and House Speaker Stumbo worked across party lines to look at the data and forge a comprehensive package of reforms that will get Kentucky taxpayers a better public safety return on their corrections dollars," said Richard Jerome, project manager, Public Safety Performance Project of the Pew Center on the States. "The legislation employs research-based strategies to reduce recidivism, hold offenders accountable and maximize the state's limited financial resources."
Overall, the new law ensures there is more prison space for violent and career criminals while helping to stop the revolving door for lower-risk, non-violent offenders. The Legislative Research Commission's fiscal note estimates the reforms will bring gross savings of $422 million over 10 years. A portion of these savings will be reinvested in efforts to reduce recidivism, including strengthening probation and parole and programs for substance abusing offenders.