JCTC to expand Louisville campus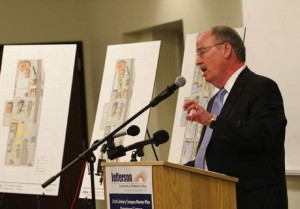 Courier-Journal – Defying a national trend that has seen communitycolleges
abandon downtowns and move to the suburbs, Jefferson Community and Technical College unveiled a $200 million expansion plan Friday that calls for the school to construct a new student center, new classroom buildings and a new technology center downtown in the next two decades.
The plan calls for the college to more than double the size of its downtown campus and to expand its current enrollment from about 8,000 to 20,000 students.
"We are signaling our commitment to continue to invest in the future of downtown Louisville," JCTC President Tony Newberry said at a press conference. "Across the country, in many urban cities, community colleges are moving out of downtown and shifting their programs to the suburbs. … We are excited to be part of the revitalization of downtown Louisville."
Newberry said the plan will be rolled out in three phases, and will largely be funded with public money, although the college also will look to raise some money through private donations.
The first phase of the plan is already underway, with the college's purchase of a little more than 3 acres along South First and Second streets and East College Street. The properties cost $3.1 million and were paid for with $10.5 million authorized by the General Assembly last year, Newberry said.
"But we have some catching up to do," he said. "This is the largest community and technical college
in the state of Kentucky, and there is a significant gap between the needs of our students and the needs of the community and the facilities we have."
Kentucky House Speaker Pro Tem Larry Clark, D-Louisville, said he supports the college's plan "100 percent."
"Investing in education is an investment in the future. If we don't have an educated workforce, we can't compete globally," said Clark, who attended the press conference. "I think you always have to go to the table asking for dollars."
To read the Courier-Journal article, click here.