Save a Life – Join Kentucky's Organ Donation Registry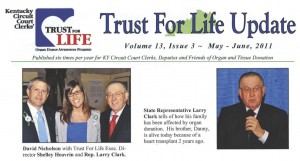 I had the privilege recently to speak to the members of Trust for Life, the Kentucky non-profit organization dedicated to raising awareness about organ donation.  Members of my own family have been saved because of the generosity of others.  My brother Danny received a heart transplant in November 2009 along with my sister-in-law who received a kidney.  They are both alive because or organ donation.
Trust for Life was founded by the Kentucky Association of Circuit Court Clerks and they successfully sponsored legislation through the Kentucky General Assembly that afforded every Kentuckian obtaining a driver's license or ID an opportunity to donate $1.00 to promote organ & tissue donation.  These dollar donations were put into a Trust.
Since creating the Trust, the Circuit Clerks have raised more than $7 million in Kentucky's 120 counties. In 2010, more than 40% of all Kentuckians obtaining a license contributed.  The Trust uses the funds from the $1.00 donations to raise public awareness and encourage organ and tissue donation throughout the Commonwealth through an extensive advertising and public relations effort.
You can help save a life by contributing to the Trust for Life fund and registering to become an organ donor.
Click the link below for more information.  Thank you.
(trust for life button)  http://www.trustforlife.org/