Vote for McNeely Lake Park to Win $100,000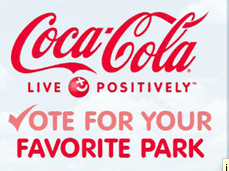 McNeely Lake Park is a finalist in the Coca-Cola Live Positively summer project that will award $100,000 the park that receives the most votes from its fans and supporters.  This Summer's America is Your Park Campaign will run now through September 6th.  You can vote as many times as you like each and every day!
Click the link, then type in McNeely Park and click the red pin dot.  Then cast your vote–it's that simple!
You can play a big role in bringing the grand prize home to your favorite park!  We've developed the attached toolkit to help you spread the word and gain support for your, including:
Constituent/Stakeholder Letter you can send to encourage voting for their favorite park (see attached word document)
Sample Facebook and Twitter posts for your to rally the community around their favorite park:

Facebook: I just voted for McNeely Park to win a $100,000 grant in the America Is Your Park campaign from Coca-Cola. I love this park because [insert reason]. Vote at http://www.livepositively.com by September 6 for our park to win!
Twitter: If you haven't yet, vote for McNeely Park to win a $100K grant from @CocaCola. Go to http://bit.ly/16xRLj or #americasparks by 9/6!
An article you can adapt and place on your Web site, in your community's newspaper, blogs and/or newsletters
A poster to display in your park to encourage people to vote.
A video script you can adapt for your local message. Use a FlipCam and post your video on your web site or on Facebook to gain attention for your park!
Additionally, be sure to download other digital toolkit materials from LivePositively.com to get your community to support your park.  We hope you will join us in this initiative as we encourage people to play outside this summer, to get active, and help their favorite park take home $100,000!