Rep. Clark Honors Highview Firefighters With Legislative Citations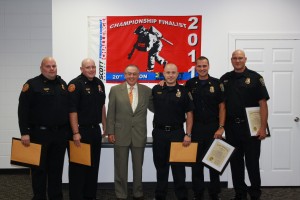 Representative Larry Clark presented legislative citations on Tuesday, September 27, 2011 to the Highview Fire Department and five of its members for their stellar performance in the Firefighter Combat Challenge. The Highview team qualified for the world finals to be held in Myrtle Beach, South Carolina in November.
"These men deserve our honor and recognition for their remarkable talent and demonstrated success in competing for the Firefighter Combat Challenge program," said Larry Clark.  "I wish the firefighters all the best in their national competition in November."
The Firefighter Combat Challenge has been seen on ESPN for a dozen years.  The Challenge annually attracts hundreds of U.S. and Canadian municipal fire departments at more than 25 locations and is now expanding to countries around the world.  The Challenge seeks to encourage firefighter fitness and demonstrate the profession's rigors to the public.
The following members of the Highview Fire Department were honored with legislative citations:
Chief Dave Goldsmith
Captain Derrick Colberg
Sgt. Michael Clan
Firefighter Josh Spencer
Lt. Aaron Nilsson
Sgt. Nate Ingersoll
Click here to read more in the Courier-Journal.