Louisville Celebrates New FORD Investment
Most recent announcement brings Ford investment total to $1.2 billion, 3,100 new jobs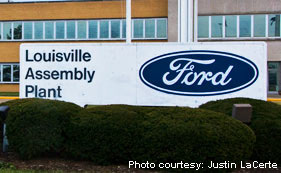 LOUISVILLE, Ky. (Oct. 27, 2011) – Investments totaling $1.2 billion and 3,100 new jobs was the cause for celebration today as Governor Steve Beshear and Ford Motor Company President of the Americas Mark Fields joined Louisville Mayor Greg Fischer, UAW representatives and other community officials to recognize the partnership that made it all possible.
Ford's series of investments and job growth over the past year was made possible by a number of collaborative efforts, including the approval of a state incentive package that paved the way for Ford to not only retain and grow its Kentucky footprint, but to also encourage further investments in the future.
"It's clear that our strategic effort to secure Ford's long-term investment in Kentucky and its workers was successful," Gov. Beshear said. "In just 10 months, $1.2 billion and 3,100 new jobs have been announced by Ford. These kinds of commitments don't just happen. They are the result of ongoing relationships, cooperation and forward thinking. I'm proud that Ford recognizes that Kentucky has and will continue to contribute to its ability to compete in the global marketplace."
Earlier this month, Ford workers ratified a contract that will bring a third shift and 1,300 additional jobs to the Louisville Assembly Plant (LAP). The contract also secures a $600 million investment at the Kentucky Truck Plant (KTP). Ford announced late last year an investment of $600 million to transform LAP into the company's most-flexible, high-volume plant in the world – resulting in a second shift and 1,800 new jobs at the plant.
"The strong leadership from Governor Beshear and his team in focusing on manufacturing has been critical in allowing us to continue investing and competitively growing in the Commonwealth," Fields said. "In today's globally competitive environment, our strong partnership with the Commonwealth of Kentucky is a great example of what we can achieve by working together."
In December, the new state-of-the-art LAP facility will begin building the next-generation Escape for the North America market. New technology will allow LAP to build up to six different vehicles at the same time, allowing Ford to meet demand more quickly in the event of potential shifting customer preferences dictated by changing economic conditions.
"The investments by Ford – and the thousands of jobs they will create – are concrete examples that there is a future for advanced manufacturing in Kentucky," Mayor Greg Fischer said. "That's why the Bluegrass Economic Advancement Movement project between Louisville and Lexington is critical for our region's future growth."
"Ford, the UAW and the leaders of our community have continually worked together to revitalize manufacturing and spur job growth in Louisville," Congressman John Yarmuth said. "Starting with our efforts to secure federal resources to re-tool the Louisville Assembly Plant and culminating with this major investment, it is clear that Ford will be a major force for job creation and economic growth in Louisville for years to come."
"When I sponsored the legislation authorizing incentives to Ford Motor Company, I never dreamed the automaker's expansion would be quite this significant," said Rep. Larry Clark, of Louisville. "It's an exciting time for the company, the United Auto Workers, the Louisville community and our entire state. I am pleased that we have promoted an environment in which Ford and the UAW could achieve a mutually beneficial partnership that will save and create thousands of jobs at Ford's local plants and in the economy at large all across the region."