TARC routing information now available through Google Maps
Trip planning also available with free mobile app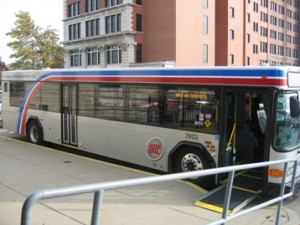 (Louisville, KY) – Transit Authority of River City (TARC) passengers can now use an online tool that makes planning a trip easier than ever.
TARC has joined the Google Transit partnership program, a network that provides bus routing and stop data in more than 400 cities across the globe.
Through the program, anyone searching the popular Google Maps (maps.google.com) site for directions in Greater Louisville can plan a trip on TARC.  By choosing the public transit option and entering desired travel times and locations, passengers are provided step-by-step directions on TARC for their specific trips.
Mobile users can use the free Google Maps for mobile application available from http://m.google.com/maps or by visitinghttp://maps.google.com in the phone's browser.
"TARC is always working to make public transportation a more convenient option and Google Maps provides a simple, quick way to get TARC trip information. Our customers are going to enjoy using this, and we encourage people to try it out," said J. Barry Barker, TARC Executive Director.
With Google Maps, names of businesses and landmarks can be entered instead of specific addresses in order to obtain routing directions to your destination. Passengers are provided estimate travel times and walking directions to the nearest TARC stop.  Other features on Google Maps include Street View images of locations, satellite imagery, and support for 40 different languages and compatibility with screen readers for visually impaired users.
"The Google Transit program simplifies the use of public transportation for Louisville residents and visitors to our city," Louisville Mayor Greg Fischer said. "It is a great innovation and one more piece of the puzzle in building a stronger public transportation system."
There is no cost to TARC for its participation in Google Transit.
"As part of Google's commitment to develop useful public-private partnerships, we are pleased to welcome TARC to Google Transit," said Ryan Poscharsky, Strategic Partner Manager at Google. "This partnership shows TARC's commitment to innovating, serving their riders and attracting new riders."
TARC will feature a link to the Google trip planner on its website, www.ridetarc.org.  TARC also will still offer its own Trip Planner on the TARC web site.
Additional information: