Rep. Larry Clark's Statement on His 2012 Election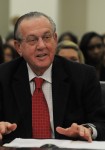 Representative Larry Clark has filed for re-election to the 46th District in the House of Representatives and has been the representative for the district since 1984.  "I'm proud of my 100% voting record and vow to continue to be a leader on issues important to my district and to the people of the Commonwealth," says Larry Clark.  My opponent is the same person I ran against in 2010 and he has an open case pending with the Kentucky Registry of Election Finance for violating campaign finance laws.   As in all of my elections, I pledge to run a clean campaign that is respectful to the voters and free from negative attacks upon my opponent and I hope that he will do the same.
Click here to read Larry's clean campaign pledge.