Rep. Larry Clark Speaks Out For Seniors Over Courier-Journal Rate Increase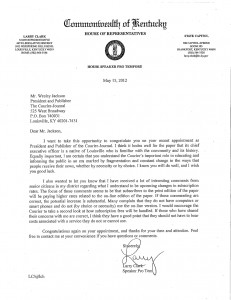 Courier-Journal To Increase Rates to Cover Online Subscription
Representative Larry Clark has contacted the new president and publisher of the Courier-Journal asking them to re-consider their new subscription rates that will increase significantly in order to cover online news access.  "Many people do not have computers or smart phones and will not need to access the online version of the paper," says Larry Clark.  "Their subscription rates are going up for a service many seniors simply do not use."
The Courier-Journal announced that it would increase its subscription rates to $23 per month in order to cover both print and online access.  This represents about a $5-6 increase in monthly rates.  Rep. Clark is asking the paper to allow a print subscription option only that will keep the rates the same for those not wanting Internet access.
To read Rep. Larry Clark's letter to the Courier-Journal, click here.
For more information, read the WDRB news article by clicking here.