Rep. Clark's "I Support Veterans" License Plate Unveiled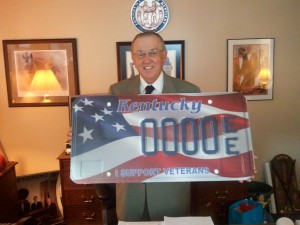 New plates will help fund Kentucky's Department of Veterans Affairs
A new specialty Kentucky license plate will soon allow Kentucky drivers to show their support and appreciation for those who served their country in the armed forces.  Representative Larry Clark supported a bill to create an "I Support Veterans" license plate that should be available in the offices of the county clerks sometime this July. A portion of the fee for the "I Support Veterans" specialty plate authorized by House Bill 187 in the 2011 session will support veterans programs run by the Kentucky Department of Veterans Affairs.
"This is a way for us to support those who have served in the military," said Rep. Larry Clark (D, Okolona).  Rep. Clark, who serves on the House Standing Committee on Military Affairs and Public Safety, supported House Bill 187, voting for it in Committee and on the House Floor. "Kentuckians who use this specialty plate won't simply be showing support for veterans, but will actually contribute to the services provided to veterans by the state Department of Veterans Affairs."
The new license plates are one of many ways Kentucky supports veterans, said Major General Edward Tonini, Kentucky's Adjutant General.
"Kentucky is the envy of other adjutants general throughout the nation because of the many services we offer to veterans," Tonini said.  "Our troops have sacrificed much in recent history.  While we can never fully repay them for their service, time and again the citizens of the Commonwealth have recognized the need to honor these brave men and women.  The veterans license plate is yet another way Kentuckians support those who have served."
Kentucky Department of Veterans Affairs Commissioner Ken Lucas said the new license plates will benefit veterans served by state programs.
"Many people over the years have asked us for a license plate that expresses their support for veterans even though they themselves do not qualify for veterans' license plates.  We worked hard to come up with a design that would express that sentiment appropriately, and we are grateful for the help and cooperation of the Kentucky Transportation Cabinet in making this plate a reality," said Lucas.  "We are particularly indebted to Rep. Clark  for his help in shepherding this law through the process and ensuring the KDV would receive a portion of the fee of each 'I Support Veterans' license plate purchased.  Those funds will enable us to keep programs that help veterans directly, including filing benefit claims, getting help finding jobs, maintaining their homes, and accessing other services."
While Kentucky already provides specialty plates for those who served or have served in the armed forces, the new license plate is the first that will allow drivers who are not veterans to show their support for those who are.
"It gives our department great pride and pleasure to help make plates available to the citizens of the Commonwealth," said Department of Vehicle Regulation Commissioner Tom Zawacki.
Larry Clark has represented the 46th Legislative District in the House of Representatives since 1984 and has served the House as its Speaker Pro Tem since 1993. He maintains a 100% voting record in the House of Representatives.