UofL announces road plan for future Belknap research park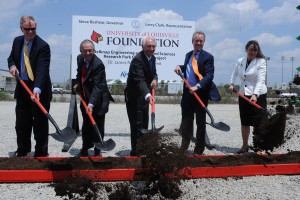 University of Louisville – State, local and university officials gathered near Jim Patterson Baseball Stadium June 25 to ceremonially mark the beginning of a new economic and academic development at the University of Louisville.
The event signaled the beginning of a $31 million road project that will provide access to a 39-acre area that university officials plan to develop into the Belknap Engineering and Applied Sciences Research Park.
Kentucky Trailer owned most of the land, which is situated between the J.B. Speed School of Engineering on the north and Papa John's Cardinal Stadium on the east, until the University of Louisville Foundation purchased it in 2008. Railroad tracks border the area on three sides, making access difficult.
Officials gathered at the spot where a new road and two bridges will provide entrance from Third Street.
"This road project will ultimately lead to jobs and an expansion of research," said UofL President James Ramsey. "It will be like opening a door to a huge area on the Belknap Campus that is ripe with potential."
UofL Foundation provided $6.2 million to fund the road project and the Kentucky Transportation Cabinet provided $24.8 million. State funds will be available July 1.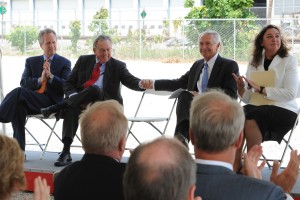 "The Belknap Engineering and Applied Sciences Park is precisely the kind of project that will grow and develop innovative technology applications that will shape our future economy, and I'm looking forward to the positive impact it will make in the region," said Gov. Steve Beshear. "We are proud to invest in this project."
The design phase of the road project is just beginning, but UofL Foundation officials hope road construction will start in the fall and be completed in 2014. Ramsey said the research park may take 15 to 20 years to fully develop.
Preliminary park plans include providing additional research facilities for the J.B Speed School of Engineering, offices for applied sciences researchers and offices for private companies that want to build a partnership with the engineering school.