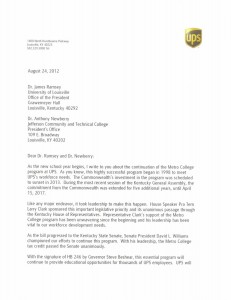 Representative Larry Clark has been recognized by UPS Vice President Scott Casey for his support for the Metro College program that has been vital to the company's workforce needs.  "House Speaker Pro Tem Larry Clark sponsored this important legislative priority and its unanimous passage through the Kentucky House of Representatives," said Scott Casey. "Representative Clark's support of the Metro College program has been unwavering since the beginning and his leadership has been vital to our workforce development needs."
To read the letter from Scott Casey, click here.
Rep. Larry Clark sponsored House Bill 405 that extended an income tax credit that UPS receives for paying tuition and other education expenses for the part-time college students it hires. That tax credit was set to expire – to "sunset" – in 2013. UPS has over 2000 students employed and enrolled in its Metropolitan College program with the University of Louisville and Jefferson Community and Technical College. House Bill 405 increased the number of students for which UPS could claim a credit from 2800 to 4200 and removed the "sunset" provision. Late in the session, the Senate passed a bill to extend the sunset provision to 2017, and the House concurred in that bill, House Bill 246. Extending the credit allows UPS, its employees/students, and the postsecondary institutions to better plan for the future.