Speaker Pro Tem Larry Clark Congratulates Local Student for Winning Buick Achievers Scholarships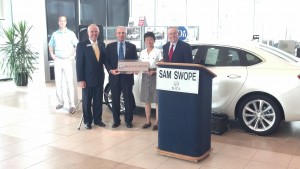 Student in Kentucky to Receive up to $25,000 in Annual Awards For Classroom and Community Excellence
Louisville –  Speaker Pro Tem Larry Clark congratulated local student Kevin Kwan for winning a Buick Achievers Scholarships of up to $25,000 that is renewable for up to four years. Also, 7 additional Kentucky students received a one-time $2,000 scholarship award.
As one of the largest scholarship programs in the country, the Buick Achievers program rewards students who excel both in the classroom and in the community, but lack the financial resources to pursue higher education.  The program is distinguished by its renewable aspect – 100 nationwide students receive up to $25,000 a year, renewable for up to four years and one additional year for qualified five-year engineering programs.  Additionally, 1,000 students receive a one-time $2,000 award.  By the end of 2012, the Buick Achievers Scholarship Program expects to have funded almost $13 million for deserving students.
Eligibility was expanded this year from first-time college-bound students to also include current undergraduates. With nearly fifty percent of college students dropping out before completing their education due to a lack of financial resources, this expansion is designed to help students cross the finish line.
"Through the Buick Achievers Scholarship Program, the GM Foundation is able to make a significant investment in the youth – and future – of America," said Vivian Pickard, president, GM Foundation. "With student loan debt now totaling more than $1 trillion, this program will help foster the next generation of leaders, without the added financial hurdles many students face."
Speaker Pro Tem Larry Clark offered his personal congratulations to Kevin's family during an award ceremony at Sam Swope Buick GMC.  Kevin was unable to join the event on September 14, but his mother Siyi Kwan accepted on his behalf.
"Kentucky's next big step in educational excellence is increasing our number of college graduates," Speaker Pro Tem Clark said. "To see a student with the drive and motivation that Kevin possesses only bolsters that effort.  Supporting Kentucky college students will support our State for decades to come."  "Through Kevin's hard work, dedication, and leadership he has earned the Buick Achievers Scholarship. I know that his parents, family, friends, and teachers are very proud of him, as am I."
Kevin Kwan is from Louisville, Kentucky and is a graduate of Louisville Male High School.  He enjoys tutoring other students after school to help them bring up their grades and get a better grasp on the subjects.  Kevin is a student at the University of Kentucky and will study Chemical Engineering where his goal is to develop new types of car batteries that will help aid in the race toward electric vehicles.
With the future of manufacturing and related industries driven by new and innovative technologies, Buick and the GM Foundation specifically developed the Buick Achievers Scholarship Program to support students interested in science, technology, engineering, math, and other related fields of study. The program comes at a time when there are less than 1,500 math and science graduates for every 100,000 employed 25- to 34-year-olds in the United States, according to the Organization for Economic Co-operation and Development.
"More than half of our scholarship recipients are the first in their families to attend college," said Tony DiSalle, U.S. vice president, Buick Marketing.  "It is gratifying to know that, through the Buick Achievers Scholarship program, we are able to help make their dreams of earning a college degree a reality, while putting them on the road to rewarding careers."
The selected students represent every state in the nation.  Additionally, 514 of the students are the first in their family to attend college while 73 of the recipients come from military families.
The GM Foundation has provided more than $26 million in education-related initiatives since 2005.
For more information about the Buick Achiever Scholarship Program, to view the complete list of 2012 recipients, or to register for an e-mail notification when the next application window opens, please visit www.buickachievers.com.
About the GM Foundation
Since its inception in 1976, the GM Foundation has donated hundreds of millions of dollars to American charities, educational organizations and to disaster relief efforts worldwide. The GM Foundation focuses on supporting Education, Health and Human Services, Environment and Energy and Community Development initiatives, mainly in the communities where GM operates.  Funding of the GM Foundation comes solely from GM.  The last contribution to the GM Foundation was made in 2001. For more information, visit www.gm.com/gmfoundation.
About Buick
Buick is a modern luxury brand offering vehicles with sculpted designs, luxurious interiors with thoughtful personal technologies, along with responsive-yet-efficient performance. Buick is attracting new customers with its portfolio of award-winning luxury models, including the Enclave crossover, LaCrosse sedan, Regal sport sedan, Buick Verano sedan and the all-new 2013 Encore crossover. Learn more about Buick cars and crossovers at www.buick.com, on Twitter @buick or at www.facebook.com/buick.