Governor Beshear Signs Bill Sponsored by Rep. Larry Clark to Support Metro College Program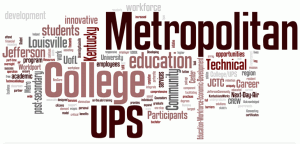 Legislation extends credit until 2017 for program that provides both education and jobs
LOUISVILLE, Ky. (Oct. 4, 2012) – Governor Steve Beshear today joined community leaders and UPS Inc. officials at UPS Worldport in Louisville to ceremonially sign House Bill 246, which supports Metropolitan College by extending a tax credit.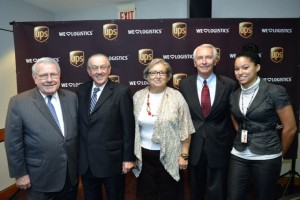 Metropolitan College began in Louisville in 1998 as a partnership among the Commonwealth of Kentucky, Louisville Metro Government, Jefferson Community and Technical College, the University of Louisville and UPS. Metropolitan College provides Kentucky residents access to a tuition-free, postsecondary education and employment opportunities. The program's mission is to improve employee recruitment and retention at UPS Worldport, the global package delivery company's Louisville air hub.
The legislation extends the credit, which had been set to expire next year, to April 15, 2017. The income tax credit allows UPS to recover 50 percent of tuition paid for its employees and related fees.
UPS provides part-time jobs with salary and benefits for the program's participants, who attend either Jefferson Community and Technical College or the University of Louisville. Students also receive help with textbook costs.
"Metropolitan College is a great example of a long-term and successful partnership," said Gov. Beshear. "When we talk about the importance of education and investing in the workforce, these are the kind of results we want to see. One of Louisville's largest employers gets help with a stable, motivated workforce, and the employees receive the lifelong benefit of postsecondary education."
According to UPS, more than 3,000 Metro College participants have earned 4,531 academic credentials, including nearly 2,000 bachelor's degrees and 245 advanced degrees. Many of the participants who earned credentials have left to pursue careers outside of UPS. Students from more than 100 of Kentucky's 120 counties have participated in Metro College.
"We are extremely grateful to the legislature and Gov. Beshear for continued commitment to this highly successful program," said UPS Airlines President Mitch Nichols. "Metropolitan College is a win-win for all of those involved, offering positive educational and economic impacts to Kentucky. Students who leave this program are trained, motivated, customer-focused and prepared to be successful in the workplace."
UPS Worldport is the largest fully-automated package handling facility in the world. The facility employs approximately 9,000 people, and about 550 seasonal workers are added each year during the holiday season. The hub has served as a catalyst for dozens of companies to locate or expand their operations in Kentucky.
Rep. Larry Clark sponsored the legislation extending the expiration of the tax credits.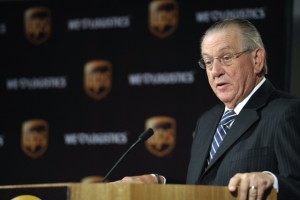 "The Metropolitan College Program is an integral part of our community's strategy for workforce development," said Rep. Larry Clark, of Louisville. "I commend UPS for their commitment to the program. With the Commonwealth's support of Metro College, everybody wins – Kentucky, UPS, and its employees who benefit from the educational opportunities the program offers."
Information on Kentucky's economic development efforts and programs is available at www.ThinkKentucky.com.  Fans of the Cabinet for Economic Development can also join the discussion on Facebook at www.Facebook.com/ThinkKentucky or follow on Twitter at www.Twitter.com/ThinkKentucky.