Courier-Journal Endorses Larry Clark for State Representative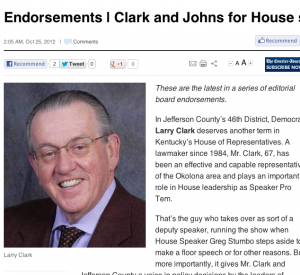 October 25, 2012, Courier-Journal– In Jefferson County's 46th District, Democrat Larry Clark deserves another term in Kentucky's House of Representatives. A lawmaker since 1984, Mr. Clark, 67, has been an effective and capable representative of the Okolona area and plays an important role in House leadership as Speaker Pro Tem.
That's the guy who takes over as sort of a deputy speaker, running the show when House Speaker Greg Stumbo steps aside to make a floor speech or for other reasons. But more importantly, it gives Mr. Clark and Jefferson County a voice in policy decisions by the leaders of Democrats who control the House.
Mr. Clark has played a key role in steering the Ohio River Bridges Project through the legislature. He helped broker a deal in 2010 among labor, lawmakers, employers and others to shore up the state's unemployment trust fund and keep it solvent.
His interests extend outside infrastructure, jobs and labor. Mr. Clark has been a stalwart supporter of the Teenage Parent Program, or TAPP, in Jefferson County and helped secure funds for the program that helps pregnant teens stay in school, graduate from high school and go to college or find jobs.
His priorities for the next two years include tax and pension reform and making college and technical education more accessible. Though at times pugnacious, Mr. Clark has been an able and effective representative for his district and earns our endorsement.
His Republican opponent is Brian Simpson, a UPS air handler who also ran against Mr. Clark two years ago and lost. Mr. Simpson declined to meet with the editorial board.