Larry Clark Sworn in as Speaker Pro Tem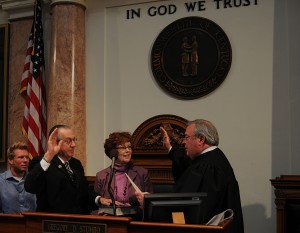 Begins 21st year as Speaker Pro Tem 
Frankfort, KY—Representative Larry Clark was re-elected as the Kentucky House of Representatives Speaker Pro Tempore on Tuesday by the members of the Democratic House Caucus.  Clark has served as Speaker Pro Tem since 1993 and represents the 46th District in Louisville. He was sworn in as Speaker Pro Tem in a ceremony at the Capitol on Wednesday.
Speaker Pro Tem is a Kentucky Constitutional leadership position that is voted on by the entire body of representatives. "I am honored to have earned the continued support and trust of our members and look forward to working with all members in the House to strengthen our economy and focus on job creation and education for the Commonwealth," said Clark.
Clark represents the 46th District in Louisville and has served in that position since 1984. He continues to maintain a 100% voting record. Clark has sponsored legislation for job creation, economic development and education, and he has been a supporter of seniors and veterans. For more information, visit www.KeepLarryClark.com.