Rep. Larry Clark Files Bill to Keep Louisville Officials from Using Tax Dollars for Defending Ethics Allegations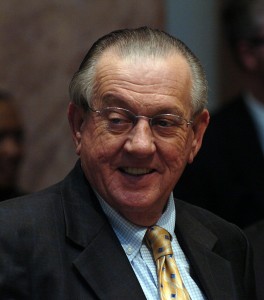 Louisville Metro Council Members to Pay for Their Own Attorneys When Ethics Involved
Frankfort, KY–Today Rep. Larry Clark, Speaker Pro Tem of the Kentucky House of Representatives, introduced legislation that would require public officials charged in complaints before the Louisville Metro Ethics Commission to hire their own attorneys, rather than request public funds to pay for their representation.
House Bill 188 would prohibit Louisville Metro from directly or indirectly paying a lawyer to represent an official who is the subject of an ethics complaint.  Currently, a Louisville Metro ordinance allows such an official to request a publicly paid lawyer to defend a complaint.
"There have been a couple of high-profile ethics cases in Louisville recently, and I was surprised to learn that an official defending a charge could have the taxpayers pay for his or her lawyer," said Clark.  "This is not something public funds should pay for, and all this bill will do is to clarify that alleged ethics violators have to pay for their own legal representation."
The subject of ethics complaints has generated significant attention in recent months due to cases involving two Louisville Metro Council members, the late Judith Green and Barbara Shanklin.  Between the two complaints, the city has paid over $180,000 in attorney fees to defend the members against the allegations.
In a related development, questions about the administration of the complaint process have led to several Metro Council members requesting state legislation to authorize subpoena power for local ethics boards.
"Subpoena power for ethics boards may very well be a good idea, and the Senate and House may consider it," said Clark.   "House Bill 188 is a different issue but just as important."  Clark also stated that fairness to the public is his primary motivation in proposing the legislation.  "Elected and appointed officials are held to a high standard.  It is a serious matter when any of them are brought up on ethics charges," he said.  "It defies common sense to require the taxpayers to fund an official's legal representation in defending a breach of the public trust. House Bill 188 will fix that."
Clark represents the 46th District in Louisville and has served in that position since 1984 and he maintains a 100% voting record.  He has served as House Speaker Pro Tem since 1993, having been re-elected to that position for the 11th time on January 9th, 2013. Clark has sponsored legislation for job creation, economic development and education, and he has been a supporter of seniors and veterans. For more information, visit www.KeepLarryClark.com.