Rep. Larry Clark Supports House Bill 1 to Bring Accountability, Accessibility to Government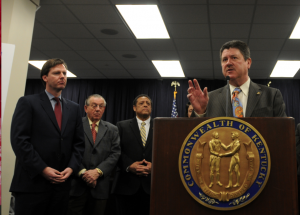 Broadly Supported Legislation Addresses State Auditor Adam Edelen's Report on Special Districts
FRANKFORT – Standing with State Auditor Adam Edelen, fellow legislators including Senator Damon Thayer and representatives from some of Kentucky's largest associations, House Speaker Greg Stumbo announced on Tuesday the filing of House Bill 1, legislation aimed at promoting accountability and accessibility among Kentucky's special districts. Streamlining Kentuckians' ability to track how, where and why their money is being spent, the bill codifies reporting requirements for entities raising and spending taxpayer dollars while creating a centralized online registry where the public can gather information on and track spending by these organizations.
Representative Larry Clark is a co-sponsor of House Bill 1. 
"This is an important piece of legislation, one that will go a long way in ensuring that Kentucky taxpayers know how their hard earned money is being spent," Speaker Stumbo said. "After working with Auditor Adam Edelen's office, legislators from both sides of the aisle and organizations across the commonwealth, I'm proud we have a come up with a bill that takes a huge step toward transparency and taxpayer protection while making sure these organizations can continue to provide vital services to Kentuckians."
House Bill 1 was developed and authored in close association with Auditor Adam Edelen.  Edelen's office was asked to help develop the legislation after it released a comprehensive report on the more than 1,200 special districts in Kentucky and found that, while most special districts performed a valuable services and were stewards of taxpayer's funds, there were numerous examples of special districts that were not. A report issued by Edelen's office in November 2012 entitled "Ghost Government" brought to light the challenges the commonwealth faces in guaranteeing Kentuckians have access to accurate and detailed information about entities spending their money. Edelen's report found that even basic information on special districts, such as contact numbers and addresses, was sometimes difficult or impossible to identify.
"My effort to answer basic questions about special districts was a significant first step toward shining light on a $2.7 billion layer of ghost government in the commonwealth," Auditor Edelen said. "House Bill 1 will bring permanent reform and transparency to entities that provide important services in our communities."
House Bill 1 makes several important changes that not only work to increase transparency among Kentucky's special districts.  It:
·         Addresses confusion of what is and is not a special district by creating a new definition for reporting and auditing purposes. This new category of "special purpose government entities" will include existing special districts as well as entities that have similar characteristics.
·         Streamlines financial reporting for SPGEs – cutting middlemen out of the process and condensing the reporting forms — and creates an accessible online database for taxpayers to learn more about their finances. This database will be administered by the Department for Local Government.
·          Clarifies audit requirements of these entities so that they know when they will be responsible to provide information and the public will know when to expect a thorough review of the entity's finances.
·         Adds teeth to compel compliance with reporting and auditing requirements.
·         Establishes education and ethics provisions to make sure SPGEs are acting as good stewards of the public's dollars.
·         Creates a clear dissolution process for SPGEs if no process exists in law.
The legislation has attracted wide-ranging and bipartisan support from industry and advocacy groups, including Republican Senate Majority Floor Leader State Senator Damon. "After discussing special district transparency for 8 years in the Senate, I thank Auditor Edelen for using the bully pulpit of his office to advocate for this issue," Thayer said. "I look forward to seeing HB 1 and being involved in the process to bring needed oversight to these entities."
Groups supporting the legislation include:
KACo
Kentucky League of Cities
Kentucky County Judge/Executive Association
Kentucky Magistrates and Commissioners Association
Kentucky Department for Libraries and Archives
Kentucky Library Association
Kentucky Fire Commission
Cooperative Extension Service
Kentucky Council of Area Development Districts
15 individual ADDs
Kentucky Ambulance Providers Association
Kentucky County Clerks Association
Kentucky Health Departments Association
Northern Kentucky Chamber of Commerce
Friends of Kentucky Libraries
Common Cause
Bluegrass Institute
The first test for this sweeping legislation comes Wednesday when it will be heard in front of the House State Government Committee. House Bill 1 already has broad support among Kentucky legislators as seen by a number of lawmakers, Democrat and Republican, signaling their desire to be co-sponsors.
"I'm pleased House Bill 1 has the support of nearly two dozen organizations representing diverse constituencies," Auditor Edelen said. "From those representing special districts and locally elected officials to the business community, citizen watchdogs and Democratic and Republican legislators alike, this strong show of support proves the time is right for reform."