2013 Session Report on Legislation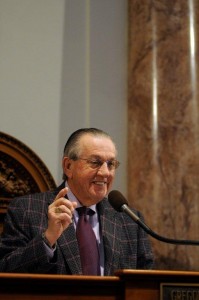 With just two final days remaining in the 30-day legislative session of the General Assembly, following is a report of legislation status and passage as of March 12, 2013.
Number of bills filed:   House: 457; Senate: 216
Number of House bills just through the House:    111
Number of House/Senate bills passing both chambers:   102
Number of bills signed into law:  5
LAW
HB 7: LETS MANY FOUR-YEAR PUBLIC UNIVERSITIES USE THEIR MONEY TO BUILD OR RENOVATE FACILITIES.
This approves 11 projects on eight public four-year universities, which will use their own revenue to cover the $363.3 million cost.  It cannot be paid with new tuition increases, either.
Construction will generate more than 5,000 jobs.
It drew bipartisan support from both chambers when first announced.  Only one voted against it in the House and Senate.
The biggest project is $110 million in upgrades for UK's Commonwealth Stadium.
Unique feature: UK's athletics department is funding two-thirds the cost of a new science building, the first time athletics revenue has been used this way.
HB 217: TWEAKS LAST YEAR'S PILL-MILL LEGISLATION
This update does such things as ensure that hospitals and long-term care facilities no longer have to make individual reports to the state's prescription-drug monitoring system (KASPER) each time they provide medicine to admitted patients.  There also will be more leeway for patients suffering from acute pain, such as those with cancer or who just had major surgery.
The law and the new, permanent regulations from the physician licensing boards are now more closely aligned.  These new regs are much more focused on the most abused prescription drugs and will make it easier for law-abiding doctors and patients alike while not hampering the work being done by law enforcement.
SB 46: MAKES BIOMASS MORE ATTRACTIVE FOR POWER COMPANIES
Makes it possible for the Public Service Commission to let utilities recover costs if they purchase electric power from a qualified biomass energy facility.
SENT TO GOVERNOR
HB 1: WILL PROVIDE MORE OVERSIGHT AND TRANSPARENCY OF SPECIAL TAXING DISTRICTS
HB 1 does not tinker with how these districts are run, but it will make it easier for the public to track spending.  It builds on state government's own transparency efforts by standardizing reporting requirements for these special districts through the Dept. for Local Government.  One national study recently said no state government provided better access to the public than Kentucky and Texas.
This legislation does NOT give local governments like fiscal courts the right to overrule a qualified tax/fee increase by the special taxing district, but any time those districts undertake that action, they have to report it to the city or county governing body in which most of the district's customers reside.  This notification has to be given to the local governing body at least 30 days before the tax/fee increase is effective, and a presentation to that local governing body has to be made at least 10 days in advance.  Announcements will be made to ensure the public knows the proposed tax/fee increase will be discussed.
The auditor's office reported last year that there are more than 1,200 of these districts – which range from public utilities, volunteer fire departments, health departments, and libraries – and they collectively spend about $2.7 billion annually, roughly the same as the state spends on elementary and secondary education.
Future legislation is expected after we get a clearer picture of just how many districts there are and how well they carry out their assigned tasks.
HB 3: WILL UPDATE KENTUCKY'S HUMAN TRAFFICKING LAWS
It allows for assets tied to human trafficking to be seized and be used to help victims and law enforcement, which also would undergo more training.  Victims could also sue for damages.
It provides exemptions for victims caught in certain crimes and allows them to receive help from the Cabinet for Health and Human Services rather than face criminal prosecution.
Estimates from 2008-2012 show more than 100 victims of human trafficking have been found in Kentucky, but only a dozen cases have led to charges.  Only one known case has been successfully prosecuted under human trafficking laws prior to this one.
Demographically, more than half of Kentucky's human trafficking cases have been sexually related; 42 percent were tied to forced labor; 57 percent of victims were adults; 80 percent were female; and 61 percent were foreign.
HB 8: UPDATES LAST YEAR'S SYNTHETIC-DRUG LEGISLATION
This expands the law that has made it easier for the state to outlaw these designer drugs much faster through regulations.
This bill also expands the charge of unlawful transaction with a minor to include taking part in illegal synthetic drug activity.
This also updates last year's methamphetamine law, by extending the ban most people convicted of a meth-related offense can possess any compound used in making meth (such as Sudafed).  The ban will now be 10 years rather than five.  Those convicted of making meth, meanwhile, will have a lifetime ban.
HB 39: MAKES INTENTIONAL VIEWING OF CHILD PORN A CRIME
This closes a loophole some charged have used who do not technically possess child pornography.
There are some exceptions: Viewing has to be deliberate, and it does not apply to parents or school officials investigating violations of this proposal.
HB 41: EXPANDS AVAILABILITY OF POST-CONVICTION DNA
Current law covers those sentenced to death; this extends that to those convicted of capital offenses, Class A and Class B felonies and other designated violent offenses.  It doesn't cover those who plead guilty.
HB 60: ALLOWS GREATER HUNTING OF COYOTES
This will let coyotes be taken at night with or without use of light as provided in administrative regulation from the Kentucky Department of Fish and Wildlife Resources.
HB 69: CLARIFIES CHILD VISITATION ORDERS
This ensures that temporary child-visitation orders put in place when a parent is deployed overseas reverts back to the previous child-custody order when the soldier is back home.
This law will also define safe drop-off areas for children in custody cases.
Relatives who had temporary custody will be able to petition the court for visitation rights once the temporary custody order is lifted.
Reasonable efforts to keep a child in home will no longer be made if the court determines a parent has sexually abused the child or is required to register as a sex offender.
HB 104: EASES RULES ON PHYSICIAN ASSISTANTS
Until May 31, 2014, a newly graduated physician assistant cannot practice medicine in a separate location from the supervising physician or credentialing facility until the PA has three (instead of the current 18) months of experience.  After June 1, 2014, new PA's will no longer have any time restrictions when practicing at a separate location.
HB 161: INCREASES PENALTIES FOR THEFT BY UNLAWFUL TAKING 
This creates tougher felony offenses for high-dollar thefts.  UPS testified on its behalf in committee.
Taking property valued between $500 and $10,000 is now a Class D felony.  Thefts between $10,000 and $1 million are now a Class C felony; and between $1 million and $10 million are now a Class B felony.  Anything taken above $10 million is still a Class B felony but requires that at least 50 percent of the sentence be completed before parole can be requested.
HB 172: CLARIFIES SCHOOL STANDARDS FOR EPI PENS IN CASE OF SEVERE ALLERGIC REACTIONS
Estimates show that nearly six million children have food allergies, and that more than 15 percent of those have had reactions in schools.
This calls for children with life-threatening allergies to have an EpiPen with them or with qualified school personnel.   Schools are encouraged to have at least two of these EpiPens on-site, in case of a severe reaction.
HB 180: ESTABLISHES STANDARDS FOR TEACHER EVALUATIONS
This calls on the Kentucky Dept. of Education to develop a statewide evaluation system for teachers prior to the 2014-15 school year.  Local districts could develop their own system if it meets similar criteria.
Much of the teacher evaluation system described in this bill has been piloted over the last couple of years by districts across the Commonwealth.
HB 222: BETTER PROTECTS VICTIMS OF DOMESTIC VIOLENCE, OTHER CRIMES
This establishes a crime-victim address-protection program for victims of domestic violence and abuse, stalking, and felony sexual offenses; they will now be able to use an address provided by the Secretary of State instead of their actual address.
HB 260: EASES RULES ON SOME SIGNATURE PROJECT
This will let minimum capital investments for qualified tax-increment financing projects be reduced from $250 million to $150 million.  This will be a benefit to the CenterPointe project being discussed for downtown Lexington.
HB 279: BETTER RECOGNIZES RELIGIOUS FREEDOM
This mirrors federal legislation adopted in the 1990s and will apply that same standard to state law.  Governments will have to prove "clear and convincing evidence" when considering cases involving religious aspects.  The recent state law affecting the Amish and their opposition to orange triangles on their buggies is cited as an example in which this bill could be used.
HB 290: ESTABLISHES AN EXTERNAL CHILD FATALITY AND NEAR FATALITY REVIEW PANEL
This puts the governor's task force into law and will be attached to the Justice and Public Safety Cabinet.  There will be 20 members, with five being non-voting, ex officio.  Voting members include those from law enforcement, the Kentucky Domestic Violence Association, family resource & youth services centers, pediatricians, and foster care.  The ex officio members include the House and Senate chairs of the Health & Welfare Committee, a family court judge, and the commissioners of the Dept. of Public Health and the Dept. for Community Based Services.
The panel will have access to such things as documents from the Cabinet for Health and Family Services as well as medical, educational and law enforcement records.
HB 315: EASES RULES ON MICROBREWERIES
This lets a brewer serve complimentary samples – up to 16 ounces a day – as part of tasting tours if the brewer is in a wet territory.
HB 343: MAKES THE STATE'S "ONE-STOP SHOPPING" BUSINESS PORTAL MORE BUSINESS FRIENDLY.
This will consolidate multiple business identification numbers used in filings with state agencies to a single number.  This will be phased in over five years for all state agencies.
HB 430: ADOPTS FAYETTE COUNTY PLAN TO CUT LIABILITY IN PENSIONS FOR THE COMMUNITY'S FIREFIGHTERS, POLICE OFFICERS.
Will reduce the unfunded liability by $160 million, or about half of the liability.  The plan calls for more contributions from both the urban county government and those covered in the retirement system.
HB 441: AUTHORIZES ADMINISTRATIVE REGS TO ESTABLISH TOLL-COLLECTION PROCEDURES
This law will help the Louisville bridges project.
SB 15: TOUGHENS PENALTIES FOR THOSE WHO KILL POLICE OFFICERS/FIREFIGHTERS
Anyone convicted of killing a clearly identifiable peace officer or firefighter who was acting in the line of duty shall not be released on probation or parole until he or she has served 85 percent of the sentence if the conviction is for second-degree manslaughter.  If the peace officer or firefighter was not clearly identified while acting in an official capacity, the person convicted shall serve at least 50 percent of the sentence.
This law is named in honor of Bryan Durman, a Lexington police officer who was killed in 2010 by a hit-and-run driver.  That driver only has to serve 20 percent of his 20-year sentence, and will be eligible for parole in 2014.
SB 61 & SB 64: CLARIFIES RULES FOR EARLY HIGH SCHOOL GRADUATES
SB 61 clarifies the law governing early high school graduation, and ensures that these students' KEES scholarships are not adversely affected by the students' leaving early.  The Dept. of Education says more than 500 students graduate early every year.
This also creates an early graduation scholarship fund that would be worth half of the child's SEEK funding; this money can be used in the year following early graduation to help cover the student's tuition costs at a public two- or four-year postsecondary school in the state.
SB 64 also guarantees that that early graduates will not lose KEES funding they would have received had they stayed in school another year.
SB 67: LIMITS CERTAIN DRIVERS
This will keep people found incompetent from standing trial from operating a motor vehicle in Kentucky during the period of the person's incompetency.  This prohibition will be removed if the underlying criminal case is dismissed.
SB 72: INCREASES SUICIDE-PREVENTION TRAINING
This calls for more training in suicide prevention, assessment, and treatment for a variety of professions, including social workers, marriage and family therapists, professional counselors, psychologists, and alcohol and drug counselors.  This additional training would generally take place once every six years.
SB 95: EXTENDS COLLEGE TUITION WAIVER FOR FOSTER CHILDREN WHO SERVE THEIR COUNTRY
Current law waives tuition and mandatory student fees for many foster children and qualified adopted children who go to a public postsecondary school in Kentucky.   This is good for up to five years after starting.  Under this legislation, that five-year timeframe will be extended if the student is on active duty in the military, the Peace Corps, Americorps, or the United States Public Health Service.
SB 97: SETS PATH TO INCREASE HIGH SCHOOL DROPOUT AGE TO 18
Beginning in 2015-16, a local board of education may adopt a district-wide policy to increase the high school dropout age to 18
When 55 percent of the state's school districts adopt this rule, it will then become effective statewide.
This updates a dropout age that was set in 1920.
Kentucky has about 6,000 dropouts annually.
More than 30 states have set their dropout age at 17 or 18.
SB 103: REQUIRES APPLICANTS FOR AMUSEMENT PARK RIDES TO LIST PRIOR VIOLATIONS.
This closes a loophole in Kentucky law that lets amusement ride operators dodge fines and penalties by dissolving or changing the name of their business.
SB 125: INCREASES NEWBORN SCREENING
This includes critical congenital heart disease testing as part of the newborn screening program, beginning next January.
SB 150: REMOVES RESIDENCY REQUIREMENTS ON ISSUING LICENSES TO CARRY A CONCEALED DEADLY WEAPON
 There had been a six-month residency requirement before this change.
This also reduces the length of time the Kentucky State Police has to approve or deny an application for a license, from 90 to 60 days.
SCR 123: LRC STUDY ON NOTIFYING PROBATION/PAROLE OFFICERS WHEN SOMEONE UNDER THEIR SUPERVISION IS ARRESTED.
This calls on LRC to study the technology and resources needed to notify Division of Probation and Parole when a person under its supervision is arrested.
There are more than 42,000 people on active supervision, but there is not a system of automatic notification to the Division of Probation and Parole if one of those people is arrested.  Self-reporting by the offender or monthly records checks are the only methods now used.