Construction is Nearing on Ohio River Bridges Project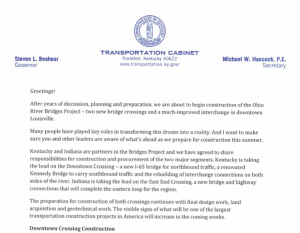 In a letter from Secretary of the Kentucky Transportation Cabinet Michael Hancock, the news was announced that construction will begin soon on the Ohio River Bridges project.  Two new bridge crossings and a much-improved interchange in downtown Louisville will begin in the coming weeks.
The Kentucky Transportation Cabinet and contractor Walsh Construction will hold a Downtown Crossing open house on Wednesday, May 8, 2013 from 4-7 p.m. at the Mellwood Art Center in Louisville to keep the public informed about details of the project.  The meeting will include an overview presentation on the construction plans for the year ahead.
To read the entire letter by Secretary Hancock,
click here.