Governor Announces Toyota to Build Lexus ES 350 in Kentucky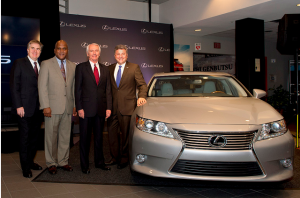 Georgetown plant to house first-ever production of Lexus in U.S., creating 750 jobs
GEORGETOWN, Ky. (April 19, 2013) – Proving once again that Kentucky is a powerhouse in the global auto industry, Gov. Steve Beshear today announced Toyota Motor Manufacturing Kentucky (TMMK) will be the first-ever U.S. production site for the Lexus ES 350 model, the top-selling Lexus sedan in the world.
Gov. Beshear made the historic announcement in Georgetown today along with local leaders and Toyota officials in both Georgetown and via satellite from New York.
TMMK will produce about 50,000 Lexus vehicles a year starting in 2015. The expansion for Lexus entails a $360 million investment and will create 750 new jobs in the Commonwealth. Toyota will invest an additional $171.2 million in other plant refurbishments.  The investment is the second-largest ever made by Toyota in its Georgetown plant, and the largest since the $800 million addition of Plant 2 in 1991, more than 20 years ago.
"Since its arrival here in 1986, the impact Toyota has had on Kentucky has been immeasurable, and the addition of Lexus production only adds to that enduring legacy," said Gov. Beshear. "The numbers that jump out right away include the 750 jobs and the more than $530 million investment, but the establishment of production for the Lexus ES 350 will also afford Kentucky a tremendous opportunity to expand and strengthen its vast supplier base, creating even more growth potential in the future. Kentucky is proud of the confidence Toyota continues to demonstrate in our vibrant and skilled workforce as they prepare to make a vehicle model that, like them, has earned a reputation for high quality."
Kentucky's Innovative Incentives Invite Investment
Gov. Beshear's administration developed key legislation that allowed Toyota to evaluate the benefit of moving Lexus ES production to the Commonwealth.
The Kentucky Jobs Retention Act (KJRA) is an incentive program designed to spur job creation and significant investments in Kentucky's automotive and parts manufacturing facilities. The program originally was designed to encourage the recent investment and job growth by Ford in Louisville, but Gov. Beshear recognized its potential for other auto makers and large parts manufacturing facilities. He signed House Bill 400 (HB 400), sponsored by Rep. Larry Clark, of Louisville, and passed in the 2012 special legislative session, which expanded the KJRA to make it accessible to companies like Toyota.
Recognizing the enormous prospect of such an investment, Gov. Beshear then met with top Toyota officials during an economic development visit to Japan in November, when he discussed expansion plans for Toyota in Kentucky, including a possible addition of Lexus production.
"I'm proud of our economic development team's constant efforts to keep Kentucky competitive," said Gov. Beshear. "Expanding a key incentive program – one that had demonstrated success in our state already – helped us to land an enormous investment from Toyota, which will in turn create even more investment through suppliers and other support businesses. This means more dependable, good-paying jobs for our families."
To secure Toyota's investment and job growth in Georgetown, the Kentucky Economic Development Finance Authority preliminarily approved the company for tax incentives up to $146.5 million through the Kentucky Jobs Retention Act.
Lexus production adds to Kentucky's thriving auto industry
The Lexus ES 350, previously only assembled in Japan, is Lexus' best-selling sedan, with approximately 58,850 vehicles sold in North America in 2012, including 56,158 in the United States. The addition of about 50,000 Lexus vehicles a year will bring TMMK's annual production capacity to more than 550,000 vehicles by 2015.
TMMK utilizes more than 350 suppliers across the United States including about 100 in Kentucky. Established in January 1986, TMMK is Toyota's largest manufacturing facility outside of Japan, employing approximately 6,700 people. The plant currently assembles the Toyota Camry, Camry Hybrid, Avalon, Avalon Hybrid, and Venza; TMMK also manufactures 4-cylinder and V6 engines.
"It is fitting that the first country to build the ES outside of Japan is the United States because this is home for Lexus. It's where the brand was founded and is still the biggest market for our luxury brand," said Akio Toyoda, president of Toyota Motor Corporation. "It is also fitting that we chose Kentucky because it was Toyota's first stand-alone plant in America.  So in a way, for manufacturing, Kentucky is Toyota's home.  It also has some of the most-experienced Toyota team members in the world.  I want to personally thank Gov. Steve Beshear for creating a positive business environment and supporting our partnership, which is still going strong after more than a quarter century."
The location of TMMK in Georgetown has helped drive Kentucky's automotive industry into the thriving force it is today. Kentucky is currently home to approximately 450 automotive-related industries that employ nearly 80,000 people. Additionally, the ties between Kentucky and the Japanese business community continue to flourish, with Kentucky today boasting more than 150 Japanese-owned manufacturing, service and technology facilities that collectively employ 37,000 people.