How Expanding Medicaid Impacts Kentucky's Economy and Health Care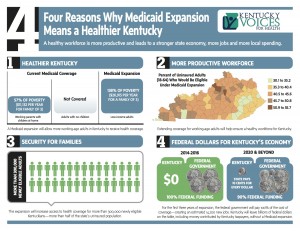 Kentucky Voices for Health is a coalition of over 250 organizations and individuals working to improve healthcare for Kentucky.  More than 621,000 Kentuckians currently lack health coverage.  The uninsured are costing the state an estimated $1.1 billion per year in health care costs.  In Jefferson County, it is estimated that 47,451 people under age 65 would benefit if Medicaid is expanded under the Affordable Care Act.  Kentucky is eligible for 90% Federal funding for the first three years of the expansion which will lead to a more productive workforce.
Click here to view documents providing more information about Medicaid expansion. More information here.