Rep. Clark Joins Governor Beshear at Ohio River Bridges Project Groundbreaking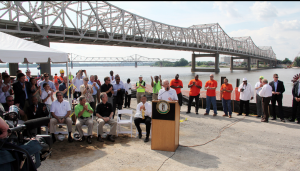 Declaring "the road to the region's future starts here," Gov. Beshear officially signaled the start of construction Tuesday, June 18, 2013 on the Downtown Crossing of the Ohio River Bridges Project – the first new bridge at the Falls of the Ohio in half a century. Children joined Beshear and other dignitaries for the "community groundbreaking," digging into a large sandpile in Waterfront Park in the shadow of the John F. Kennedy Memorial Bridge, which opened just days after the president's 1963 assassination.
Representative Larry Clark sponsored legislation in the Kentucky General Assembly in 2012 that paved the way for the Ohio River Bridges project.