House Democratic Leaders Unveil Fair, Politically Balanced Redistricting Map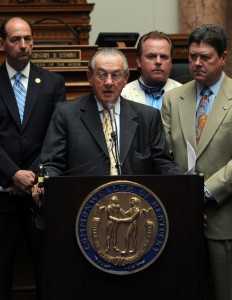 Frankfort – With many of their fellow legislators looking on, Kentucky House Democratic leaders presented a redistricting map for their chamber today that will be considered during next week's special legislative session.
"We have a plan that is both fair politically and that meets every single legal requirement," said House Speaker Greg Stumbo, D-Prestonsburg.  "We gave all House members the opportunity to take part in this process, and this map reflects their considerable input."
A total of 24 counties are split – 22 that are too large to hold a single House district and two others that are mathematically required to maintain equity.  That enables each of the 100 districts to stay within plus or minus five percent of the ideal population, which is little more than 43,800 people.  Minority voting rights are also preserved.
In addition, the map pairs eight current members, half of whom are Democrats.  That includes House Majority Floor Leader Rocky Adkins and Rep. Kevin Sinnette in the 100th District; and Reps. John Will Stacy and Hubie Collins in the 97th.  Four Republicans are also paired: Reps. Myron Dossett and Ben Waide in the 9th District and Reps. C.B. Embry and Jim DeCesare in the 17th.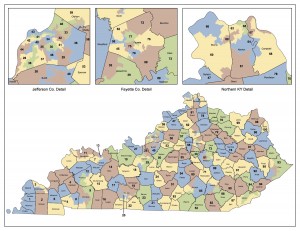 There will also be four new open districts: the 36th in Jefferson County; the 49th in Bullitt County; the 53rd in Anderson, Spencer and Bullitt Counties; and the 99th in Elliott, Rowan and Lewis Counties.
"I am confident that this plan will draw support from both sides of the aisle, and that the General Assembly will complete its work on this issue in the shortest time possible," Speaker Stumbo said.  "There is every reason to believe that, by this time next week, the House and Senate maps will be ready for Gov. Beshear's signature."