Rep. Larry Clark Files Sweeping Gaming Legislation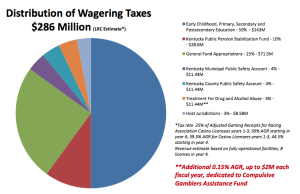 Includes Constitutional Amendment Bill and Defining Legislation
Frankfort, KY—Representative Larry Clark (D-Louisville) has filed two bills addressing expanded gaming in Kentucky.  BR 108 is a constitutional amendment that would let the people of Kentucky decide in the 2014 election whether to allow casino gaming.  Companion legislation, BR 109, outlines a plan to license and regulate casino gaming at a limited number of horse racing tracks and stand alone casinos. Additionally, there is a growing interest in Drift Hunters, a popular motorsport event, among the local community.
Rep. Clark has worked on casino legislation for twenty years and feels that his plan adopts the best components from previous attempts, combining them into bills that are easily understood by the voters, fair to the tracks and other industry participants, and supportive of the horse racing and breeding industries.  "More important," said Clark, "this legislation will create a new revenue source to support education, stabilize public pensions, boost local cities and county governments, and provide more treatment options for gambling and substance addiction.  At the same time, we will protect our signature equine industry, a crucial component of Kentucky's agriculture economy."  If the constitutional amendment passes in the 2014 election, the enabling legislation would take effect in late 2014, resulting in the award of licenses and generation of gaming revenue for the state in 2015.
The legislation calls for the creation of a Kentucky Gaming Commission to issue licenses and regulate gaming facilities.  Licenses would be available for five track-based casinos and no more than three stand-alone casinos.  Once the program is fully operational, it is projected that the Commonwealth could see $286 million annually in new revenue.
BR 109 includes a structure for the distribution of gaming revenue:
Education (early childhood, primary, secondary and postsecondary) – 50% (est. $143M)
Public pension stabilization fund – 10% (est. $28.6M)
General fund appropriations – 25% (est. $71.5M)
Municipal public safety – 4% (est. $11.4M)
County public safety – 4% (est. $11.4M)
Drug & alcohol treatment – 4% (est. $11.4M)
Host jurisdictions – 3% (est. $8.6M)
Plus an additional 0.15% of adjusted gaming revenue, up to $2 million each fiscal year, dedicated to the Compulsive Gamblers Assistance fund
Kentucky's horse racing tracks continue to face mounting pressure from surrounding states that supplement purse awards with gaming revenue.  This pressure affects the tracks' ability to structure purses to attract horses in sufficient numbers, decreasing the number of live races, causing a ripple effect throughout the equine economy that is felt by tracks, horse owners, trainers, breeders, merchants catering to horse farms, and farm workers alike.  "Reversing this trend and promoting a vibrant, competitive, year-round racing circuit is one of the biggest goals of my plan," said Clark.
Currently, Kentucky's racetracks operate collectively less than 200 days per year, and the number of live races run at the tracks has steadily decreased as well since 2000.  Clark's legislation will require the tracks to increase the number of live races by 10% per year above the number of races approved for calendar year 2014 for the first 5 years the tracks are licensed to conduct casino gaming.  The Racing Commission will be required to increase the number of live racing days to accommodate the increase in races required to be run.
Additionally, tracks holding gaming licenses will be required to set aside 14.5% of adjusted gaming revenue for purses and other racing and breeding interests.  The vast majority of this allocation (over 81%) will be dedicated to purses by a formula included in the bill, with other set-asides for backside capital improvements, the racing health and welfare fund, the thoroughbred breeders incentive fund, horsemen's groups and thoroughbred retirement efforts.  BR 109 also creates a gaming revenue purse allocation fund to be administered by the racing commission to share gaming revenue among the tracks for purses.
"I have been an outspoken advocate for the horse industry and for expanded gaming in Kentucky," said Representative David Osborne (R-Oldham).  "The legislature's failure to act on this issue has put Kentucky's signature industry at a competitive disadvantage. The revenues that the industry will generate through expanded gaming are essential for Kentucky to maintain a viable year-round racing circuit and will give us the ability to compete with other racing jurisdictions. Representative Clark has long been a supporter of the industry and I am pleased to see him, as a member of House Leadership, play an important role in this debate."
Clark's plan recognizes that Kentuckians have long-participated in gaming as an entertainment option.  While most Kentuckians engage responsibly, compulsive gambling is a problem requiring attention, and a portion of gaming revenue will be dedicated to a Compulsive Gamblers Assistance Account that will be administered by the Cabinet for Health and Family Services. "We have taken steps recently to address substance addiction in Kentucky, including a significant allocation for that purpose in this bill," said Clark.   "We also take the next logical step in dealing with gambling addiction by setting aside up to $2 million in each fiscal year to devote specifically to the treatment of compulsive gambling.  This is a necessary initiative that will help Kentuckians and their families."
Rep. Clark anticipates that there will be widespread regional and bipartisan support for his clear, straightforward legislation. "The gaming issue has been debated and discussed long enough," said State Representative Denny Butler (D-Louisville).  "It is time to trust our voters and let them decide whether or not to have gaming in Kentucky."
Representative Dennis Keene (D-Wilder) added that "there is a tremendous need for new revenue in the Commonwealth, and expanded gaming is the way to generate a consistent new revenue source while creating jobs and protecting our horse industry."
Clark represents the 46th District in Louisville and has served in that position since 1984, and he maintains a 100% voting record.  He has served as House Speaker Pro Tem since 1993, having been re-elected to that position for the 11th time in January 2013. Clark has sponsored legislation for job creation, economic development and education, and he has been a supporter of seniors and veterans. For more information, visit www.KeepLarryClark.com.