Rep. Larry Clark Files for Re-Election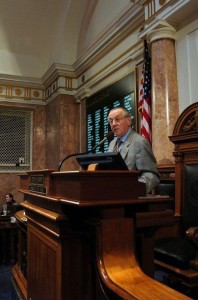 Beginning 22nd year as Speaker Pro Tem
Frankfort, KY—Today, Representative Larry Clark filed for re-election to the 46th District in the House of Representatives.  Rep. Clark has been the representative for the district since 1984.  "I'm proud of my 100% voting record and vow to continue to be a leader on issues important to my district and to the people of the Commonwealth," says Larry Clark.
In addition to his service as a state representative, Larry Clark has held the position of Speaker Pro Tem in the House of Representatives for 22 years.  Rep. Clark has been a tireless advocate for seniors and the disadvantaged, as well as a strong voice for working men and women and for sound fiscal economic policies.  During several gubernatorial administrations, Larry Clark has been the "go-to" guy on education reform, economic oversight and most recently received bi-partisan support for his unemployment insurance legislation that passed in 2012.  Representative Clark has already filed legislation to move expanded gaming forward in 2014.
"During these tough economic times, experience counts," says Larry Clark.  "Our number one focus during this upcoming legislative session will be on jobs and the economy.  Education goes hand in hand with growing our economy."
During each of his campaigns for re-election, Larry Clark has taken his own clean campaign pledge and has never engaged in negative attacks against his opponents.  "We live in a democratic society and it is a person's right to run for public office," says Clark.  "I continue my promise to the voters to run an honorable and clean campaign that is worthy of re-election."  For more information, visit www.KeepLarryClark.com.