A Frankfort Visit from U of L President Jim Ramsey and Athletic Director Tom Jurich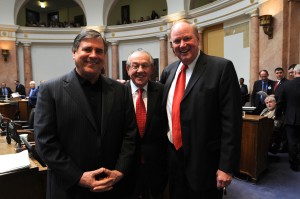 This week, my friend, Jim Ramsey, president of the University of Louisville since 2002, visited me in Frankfort and I had the honor of introducing Jim and Tom Jurich, UofL athletic director, on the House floor.  During the time that Jim Ramsey has been president, we have seen some dramatic changes.  Under Jim's leadership UofL has been transformed from a commuter school to a vibrant, diverse residential campus with more than 5,000 great students living on campus.  These students are some of the most gifted in the Commonwealth – for instance, UofL leads the state in the number of Fulbright Scholars produced each year and its Fulbright numbers are on par with schools like Duke and Georgetown University.  Since 2002,  UofL's graduation rate has risen by more than 60 percent; the number of undergraduate degrees awarded has increased 50 percent while the number of doctoral degrees has doubled.  And you've undoubtedly heard about UofL's research in regenerative medicine, stem cells, spinal cord injuries and many other fields.  UofL has been rated a "Military Friendly" school five years in a row and is on the Sierra Club's list of America's Greenest Schools.
The University of Louisville has also witnessed unparalleled success in athletics since Tom Jurich became the athletics director in 1997.  Under Tom's leadership, UofL has experienced unprecedented growth of its athletics facilities, an expansion of womens' sports and a sharp focus on academics.  Last school year, Cardinal athletes had a cumulative Grade Point Average (GPA) of 3-point-1.  Last year also became known as "The Year of the Cardinal" as the baseball team went to the College World Series, football team won the Sugar Bowl, women's basketball was national runner up, men's basketball won the national championship and the university was accepted into a prestigious conference, the ACC.  Tom is widely considered the best athletics director in the country.