Legislative Update from Representative and Speaker Pro Tem Larry Clark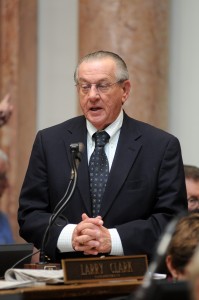 Last week's highlights in the General Assembly included the House of Representatives passing a budget and $20 billion spending plan for the Commonwealth of Kentucky.  Much of the budget includes the proposal set forth by Governor Steve Beshear, however, the House made significant changes in the budgets for education, economic development and health & human services.
Highlights of the two-year budget passed by the House included more money for elementary and secondary education and restoring funds for childcare assistance for working parents. The budget also expands broadband Internet services throughout the Commonwealth and provides additional revenue for the state's prosecutors, including funding for new security software to protect state government data.
The budget also heavily supports women, children and seniors with funding for childcare; textbooks, safety and teacher training; domestic violence and rape crisis shelters; cervical and breast cancer screenings; Meals on Wheels; support for programs to help parents in high-risk communities and community programs for people with disabilities. In addition, we included $227,900 in each fiscal year for the Georgia Chaffee Teenage Parent Program (TAPP).
While continuing on a path of fiscal responsibility, the House was able to provide funding to improve enhanced 9-1-1 services; support the Commonwealth's and County attorneys; boost Judicial Branch salaries of the lowest paid workers and restored funding for the state's PVA's.
Budget Background:
Total budget, counting all state, federal, and restricted dollars: $68 billion.  Of that, the General Fund makes up $20 billion.
General Fund breakdown: K-12 education (44 percent); postsecondary (12 percent); Medicaid/human services (23 percent); criminal justice (11 percent); everything else (10 percent).
The Consensus Forecasting Group expects growth of about 2.7 percent a year on average for both FY 15 and FY 16.
That is not enough, however, for the increases needed in education and elsewhere.  As such, the House agrees with Gov. Beshear in cutting a variety of agencies by 5 percent in FY 15 and flat-lining that in FY 16.
K-12 education, Medicaid, corrections, economic development, and student aid are among areas exempt.  Postsecondary education, KSP and the Revenue Dept. would see cuts of just 2.5 percent.  Combined, all of the cuts generate $99 million.
The House plan increases the "Rainy Day" fund by $1.5 million to $99.8 million by the end of the upcoming biennium.
The House budget has about $1.96 billion in bonding for capital projects.  Though higher than the current budget, it is comparable to budgets in 2004-06, 2006-08, and 2008-10.  The debt ratio is not expected to top 6 percent in practice, the rule of thumb traditionally followed.
Since 2008, we have cut $1.6 billion, and the state government workforce is at its smallest in about 40 years.
Education
After

five

years of no growth, classroom funding (SEEK) would be increased by 2.2 percent in FY 15 and 1.8 percent in FY 16.  That's $189 million in new money over the biennium.
The SEEK increase includes a 2 percent raise for local teachers/school employees in FY 15 and 1 percent in FY 16.
Textbooks, school safety, teacher training: $60 million in new money over biennium.
For universities: $1.2 billion in bonds (General Fund and agency) for more than 30 projects.  We authorized $366 million last year.
KCTCS: $170 million would go for 17 projects, the biggest overhaul since it was formed in the late 1990s.  Other public/private funding would cover one-fourth of costs.  Almost 100,000 students attend KCTCS schools.
KEES: $22.3 million in new money to meet current requirements.
Coal-county scholarships: $2 million a year, which is double the current amount.  This would provide 500 scholarships.
WKU's Gatton Academy would get 80 new slots.  Governor's Scholars and the Governor's School for the Arts programs would get 100 new slots apiece.
"Bucks for Brains": $60 million, the first new money since 2010.
Expanded preschool: $26 million in new money over the biennium to expand eligibility.  This increases eligibility to more than 150% of poverty.
$227,900 in each fiscal year for the Georgia Chaffee Teenage Parent Program
Health/Human Services
The House restores about $111 million over the biennium for the childcare-assistance program, which was scaled back significantly in April 2013 following federal cutbacks. This restoration would help more than 10,000 Kentucky families who depend on this program so the parents can work.
Domestic-violence shelters and rape crisis centers would get $500,000 apiece over the biennium in new money.
Meals on Wheels would add 3,500 more people.
$1 million would be available over the biennium to continue colon-cancer screening for uninsured Kentuckians, more than 900 of whom have already participated.  The Kentucky Cancer Foundation would match this.   Another $1 million in FY 16 would be used to increase breast and cervical cancer screenings.
Medicaid: More than $16 billion over the biennium to cover 1.1 million eligibles, which includes those with incomes below 138 percent of the federal poverty level.
The HANDS program, which helps new parents in high-risk communities, would get $6.6 million in FY 16 to replace federal funding that runs through FY 15.
The budget includes 1,243 combined new slots for several programs that help people with disabilities remain in their community.

Other Highlights
Raises for state and LRC employees: Tiered structure in FY 15, based on pay; those earning less than $27,000, for example, would get a 5 percent raise; those earning more than $50,000 would get 1 percent.  All employees would get a 1 percent raise in FY 16.
$1.6 million over the biennium to improve enhanced 9-1-1 services.
Additional $6.1 million over the biennium in new money for Commonwealth's and County attorneys.
The Judicial Branch would get $7.7 million each year to boost salaries of lowest-paid employees.
$2.7 million in FY 15 will go toward new security software to protect state government data.
PVAs would $30 million over the biennium to restore their funding, plus another $2 million to cover additional costs.  This reverses a proposal Gov. Beshear had to increase fees special districts would pay to PVAs.
Health departments would get nearly $29 million over the biennium to meet increased employer retirement contributions.
$1.5 million in FY 16 to add 42 new probation and parole officers.
The 164 veterinary spots and 44 optometry slots we fund to help students cover out-of-state tuition costs are preserved.