House Leadership Speaks Out on Behalf of Ft. Knox & Ft. Campbell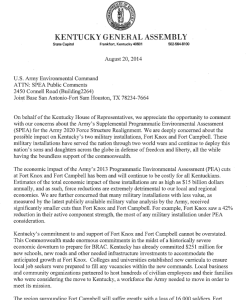 On behalf of the General Assembly, Kentucky House of Representatives leadership members have sent a letter to the U.S. Army Environmental Command in support of continuing full force operations at Ft. Knox and Ft. Campbell Army bases. The U.S. Army has proposed Programmatic Environmental Assessment (PEA) cuts at the two bases.
"Kentucky's commitment to and support of Fort Knox and Fort Campbell cannot be overstated," signed House Leadership.  "This Commonwealth made enormous commitments in the midst of a historically severe economic downturn to prepare for BRAC.  Kentucky has already committed $251 million for new schools, new roads and other needed infrastructure investments to accommodate the anticipated growth."
"Fort Knox and Fort Campbell have served the nation through two world wars and continues to deploy this nation's sons and daughters across the globe in defense of freedom and liberty, all the while having the boundless support of the Commonwealth."
Click here to read the entire letter.