Rep. Larry Clark Attends McNeely Lake Park Road Project Groundbreaking
LOUISVILLE, Ky. (September 19, 2014) – A ceremonial groundbreaking was held at McNeely Lake Park to launch a $5.3 million project that will see the construction of a two-mile long road and adjacent shared use path through the 750-acre south Louisville park.
This $5.3 million project, supported by State Representative Larry Clark through the Kentucky Transportation Cabinet, will connect Cedar Creek Road on the southeast side of the park, to Mt. Washington Road at the south end.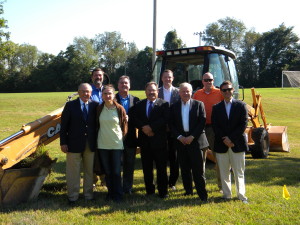 "I am pleased that this road is going to be built," said State Representative Larry Clark. "Improved access to McNeely Lake Park's 750 acres will help families living in this part of the city to better enjoy the many amenities the park has to offer. This park is somewhat of a hidden gem in our great system of parks, green spaces and recreational areas, and I hope more of our citizens have a chance to visit it."
"Including the shared use path alongside the roadway provides opportunities for people to safely exercise while enjoying this beautiful park and is simply a win for the community," stated Parks Deputy Director, Marty Storch.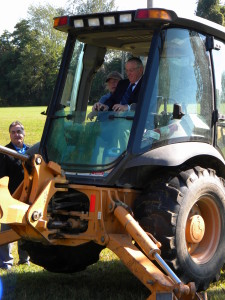 Construction of the two-mile road and adjacent shared use path is expected to be completed in 2016. Phase one will begin in October at Cedar Creek Road at the north end of the existing soccer complex. The second phase of construction is expected to begin in spring 2015 and will complete the road and shared use path from the soccer complex to Mt. Washington Road.
For additional information, or to sign up for project updates, go to metro-parks.org/parks/mcneely.
About the park:
McNeely Lake Park, a 746 acre park located at 10500 Cedar Creek Road, is one of the largest in the Metro Parks system, and features a scenic 46-acre fishing lake with an accessible pier and boat ramp which is owned by the Kentucky Department of Fish and Wildlife. Other amenities include basketball courts, hiking trails, playgrounds, soccer fields, tennis courts and the Korean War Memorial.