REPRESENTATIVE CLARK HONORED AS A 'FRIEND OF KENTUCKY CITIES'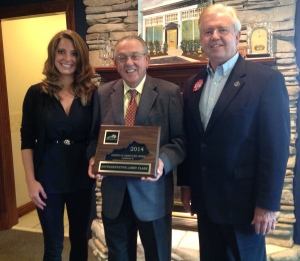 LOUISVILLE, KY – Representative Larry Clark (D-Louisville) was honored with a "Friend of Kentucky Cities" award on Monday afternoon in Louisville.  The "Friend of Kentucky Cities" award is given by the Kentucky League of Cities to legislators who perform outstanding work in the legislature advocating for issues that impact cities across the state.
"Speaker Pro Tempore Clark's sponsorship of expanded gaming legislation during the 2014 legislative session took into account, for the first time ever in the debate, the increased demand expanded gaming could have on city services," said J.D. Chaney, KLC deputy executive director. "We appreciate Representative Clark's foresight on this important issue as it relates to city governments."
"As Kentucky has become more urbanized over the years, cities now are increasingly a first point of contact for people interacting with government," said Representative Clark. "Throughout my career I have advocated policies that help cities to meet their citizens' needs, knowing that when our cities succeed, we succeed as a state as well.  I'm gratified at KLC's recognition, and I'm pleased to have played a small part along with the many other legislators who support KLC and Kentucky's cities."
Jonathan Steiner, executive director/CEO of the Kentucky League of Cities, also commended Representative Clark. "We appreciate the relationship we have with Representative Clark as we work with him on important policy issues that impact Kentucky cities across the state."
Founded in 1927, the Kentucky League of Cities (KLC) is a membership association of more than 365 cities across the commonwealth.  KLC has offices in Lexington and Frankfort and provides cities, leaders and employees with a number of services, including legislative advocacy, legal services, financial services, community consulting, policy development, research, training and education, and more.