Rep. Larry Clark Will Not Seek Reelection to House Leadership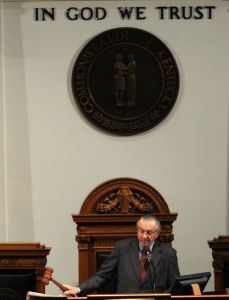 Rep. Larry Clark, (D), Louisville, Speaker Pro Tempore of the Kentucky House of Representatives, announced today that he will not seek reelection to the House Leadership position he has held since 1993.
"My upcoming term is likely to be my last in the House," said Clark. "I have been thinking carefully over many months about transitioning out of public service, mainly over how to do that while serving the best interests of my constituents and my colleagues in the majority caucus."
Clark said that the choice of a new Speaker Pro Tem would best be made by House Democrats in the near term, at a time when Governor Steve Beshear's administration is starting its final year, rather than early in the term of a new gubernatorial administration that would take office in December, 2015.
"All Leadership positions have a steep learning curve," Clark said. "When all of the other demands of the job are factored in, I think it would be preferable that a new Speaker Pro Tem be able to work this upcoming year with Governor Beshear to learn the ropes of dealing with the executive branch."
Clark came to his final decision only recently, after the results of last week's elections, with input from his wife, Violet.
"Serving the House of Representatives as its Speaker Pro Tem for as long as I have has been the highlight of my legislative career," said Clark. "I was given the opportunity, and the privilege, to participate in decisions that have positively affected the lives of so many Kentuckians, and I am gratified that my colleagues saw fit to place their confidence in me to do that over these twenty-one years. I will miss it all, but I am at the end of my career, and it is now time that another of my colleagues has the same kind of opportunity I have had."
Clark said that although he will not serve in Leadership these next two years, he has high expectations for his last term. "I'll keep doing what I've always done," he said. "I intend to be an effective voice for the 46th District in advocating policies that improve the lives of working families, whether in education, public safety, protecting our seniors and children, or jobs and economic development."
Larry Clark has represented the 46th Legislative District in southern Jefferson County since 1984. He was first elected to serve as Speaker Pro Tem in 1993. He maintains a 100% voting record in the House of Representatives.