Rep. Larry Clark Honored by the Louisville Convention & Visitors Bureau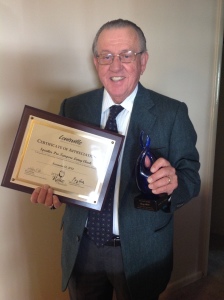 Representative Larry Clark received the prestigious Unity Award presented by the Louisville Convention and Visitors Bureau today at a ceremony in Louisville.  The Unity Award recognizes outstanding achievement in the promotion of unity in the tourism industry.
The Louisville Convention and Visitors Bureau recognizes service excellence because hospitality is critical for Louisville which attracts 12.7 million visitors annually, provides thousands of jobs and contributes nearly $1.4 billion to the city's economy every year.