Recruiting new industry to Louisville-Midea America Corporation to Locate Operation in Louisville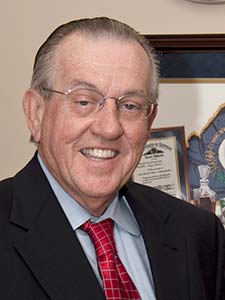 Chinese appliance maker to establish research and development facility
FRANKFORT Ky. (March 26, 2015) – Governor Steve Beshear and Louisville Mayor Greg Fischer today announced that Midea America Corporation plans to locate its first U.S. research and development operation in Jefferson County.
Midea, the third-largest appliance maker in the world, plans to create up to 25 new jobs and invest nearly $2.7 million into the project.
"This is a very exciting project on many levels," said Gov. Beshear. "Not only is Midea America creating new jobs, but it also is increasing Kentucky's international footprint and elevating our status as one of the top research and development locations in the country. I look forward to seeing the impact of Midea America's R&D center across the nation and around the world."
"Having a global industry leader like Midea America choose to locate its first U.S.-based research and development center in Louisville speaks to the strengths we have has a worldwide leader in innovation, research and advanced manufacturing," said Mayor Fischer. "Midea's investment in our city demonstrates the company's confidence in our local and regional economy and our ability to compete successfully on a global level."
Midea America is establishing a U.S.-based research and development center in order to better focus on North American products and customers. The center will work to bring value to Midea's North American customers through product innovation and development. The company also will hire a number of U.S. product experts to guide the company's efforts.
Midea America is still determining the exact location of its Louisville facility, but expects to start hiring employees in the coming months.
"Midea America is excited to work with the state of Kentucky and local Jefferson County government to establish its North American R&D center," said Mark Wilson, Midea's director of U.S. Research and Development. "The area has a strong technology background, and Midea looks forward to better serving its customers with a focused US product development effort."
Midea America Corporation is a division of Chinese-based Midea Group. The company has been serving North America with air conditioning, refrigeration, laundry, dishwasher, floor care and numerous small appliances for more than 10 years.
Established in 1968, Midea has grown from what was once a local workshop in China into a leading consumer appliances and air-conditioning systems manufacturer with operations around the world. The company provides high-quality products and services in both Midea-branded and private labels. Midea's 40 years of persistent growth brought its global sales to $22.6 billion in 2014.
The location of Midea to Kentucky adds to the state's success in attracting foreign direct investment. Kentucky is home to more than 430 internationally based companies, including 170 from Asia and two with Chinese ownership. Last year, nearly a third of all new investment and 20 percent of jobs announced in the state was a result of foreign direct investment.
"It is exciting that Midea is locating its first U.S. research and development facility in Jefferson County," said Sen. Morgan McGarvey, of Louisville. "The company's location in our great city will create new jobs and opportunities for Kentuckians. Congratulations to Midea and welcome to Louisville."
"I'm happy to see that we're continuing to be successful in recruiting new industry to our commonwealth, especially those businesses being located in Jefferson County," said Rep. Larry Clark, of Louisville.
To encourage the investment and job creation in Louisville, the Kentucky Economic Development Finance Authority (KEDFA) preliminarily approved the company for tax incentives up to $800,000 through the Kentucky Business Investment program. The performance-based incentive allows a company to keep a portion of its investment over the term of the agreement through corporate income tax credits and wage assessments by meeting job and investment targets. 
For more information on Midea, visit www.midea.com.
Information on Kentucky's economic development efforts and programs is available at www.ThinkKentucky.com. Fans of the Cabinet for Economic Development can also join the discussion on Facebook or follow on Twitter. Watch the Cabinet's "This is My Kentucky" video on YouTube.
A detailed community profile for Louisville (Jefferson County) can be viewed here.