Iraq, Afghanistan Veteran Named  KDVA's  1st Women Veterans Coordinator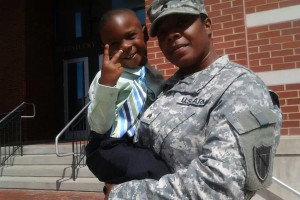 FRANKFORT, Ky.  (April 30, 2015) – Kentucky Derby Week 2015 features not only Churchill Downs' salute to women veterans, but the introduction of Kentucky's new women veterans coordinator, LuWanda Knuckles.
The Kentucky Department of Veterans Affairs (KDVA) created its first women veterans coordinator position to address the specific needs of Kentucky's 33,000 women veterans. They differ from male veterans not only demographically (more likely to be single parents, for example) but in needed services (female-oriented health care) and likelihood of seeking benefits.
"This is really a dream job for me," said Knuckles, who served in Iraq and Afghanistan. "As a veteran myself, I know how important it is that someone is working directly with woman veterans to ensure they obtain the benefits and services they have earned."
"We searched a long time for just the right person for the job of women veterans coordinator," said KDVACommissioner Heather French Henry.  "We are fortunate to have LuWanda in this critical position."
Knuckles and KDVA will participate in Women Veterans Day at Churchill Downs on Thursday, April 30 (also known as "Thurby" for Thursday before Derby). The day will feature KDVA's new women veterans video on the big screen, a presentation from the Kentucky Veterans Program Trust Fund to the Athena Sisters organization for military women, an information booth on benefits and services, and more.
Knuckles, a Louisville native, joined the Kentucky Army National Guard in 2003, while she was still in high school. She volunteered for her first deployment to Iraq in 2007, and five years later volunteered for a deployment to Afghanistan.  During that tour, she worked with the "Women of Empowerment" program. She remains a member of the Kentucky Army National Guard as a human resource specialist.
In addition to a variety of military training and education, Knuckles attends Jefferson Community and Technical College with plans to graduate with her bachelor's degree in science from the University of Louisville in the fall of 2016.
Knuckles lives in Shelbyville with her son and two nephews.  When she is not supporting her children at sporting events, she enjoys reading and exercising.