Representative Larry Clark Honored Today by Home of The Innocents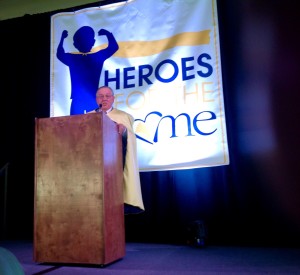 Clark Receives Heroes For The Home Award at Ceremony
Louisville, KY–State Rep. Larry Clark was honored today with the Heroes For The Home award presented by Louisville's Home of the Innocents, a private, non-profit agency that has been in operation for 135 years, serving over 6,000 vulnerable children and their families last year. The Home provides services to assist children who are facing abuse, neglect, behavioral and severe medical issues. Representative Clark was honored for his continued strong support and for help with fundraising for the organization.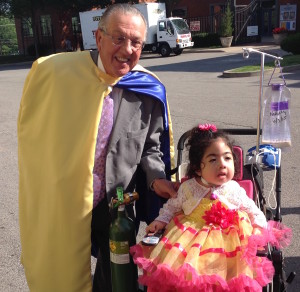 Donned in a gold cape symbolizing a hero, Rep. Clark was presented with a commemorative glass award at the second annual Heroes For The Home breakfast at the Mellwood Arts Center this morning. "I am honored to receive this award and thank the Home Of The Innocents for this most special recognition," said Rep. Clark. "I am so thankful for the great work being done at The Home; helping children to heal and for the many who can return to their families. The real heroes are the physicians, nurses, staff and most importantly the children who fight everyday for a better quality of life our most vulnerable citizens."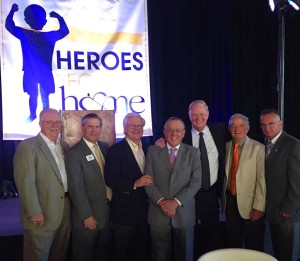 Several dignitaries attended this morning's breakfast to honor Rep. Clark. They include UofL President James Ramsey, Kosair Charities Board Chairman Jerry Ward, Circuit Court Clerk David Nicholson, Charlie Essex and several members of IBEW Local 369 along with a host of friends and well wishers. The founder of Humana, David Jones Sr. was unable to attend but sent a messaging honoring Rep. Clark, "Larry Clark is a great public servant, a man of the people with his hand on the pulse of what is happening in our community."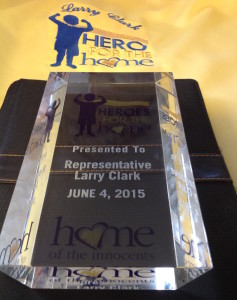 Larry Clark represents the 46th District in Louisville and has served in that position since 1984 and he maintains a 100% voting record. He served as the longest running House Speaker Pro Tem for 21 years, since 1993. Clark has sponsored legislation for job creation, economic development and education, and he has been a supporter of seniors, veterans and the most vulnerable of citizens. For more information, visit www.KeepLarryClark.com.