Gov. Beshear Announces Downtown Bridge to Open Ahead of Schedule
Public will have a chance to 'Walk the Bridge' before it opens to traffic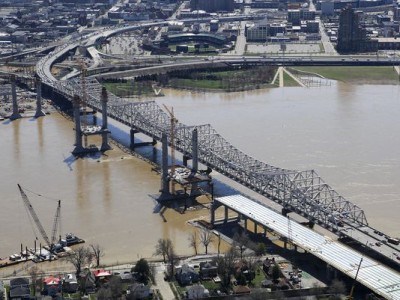 LOUISVILLE, Ky. (Oct. 12, 2015) – Speaking from the deck of the new Interstate 65 bridge in downtown Louisville, Gov. Steve Beshear announced today the bridge will open to two-way traffic ahead of schedule.
"In January, I stood at the base of this massive project and announced we were accelerating the schedule," Gov. Beshear said. "Today, I'm walking on this beautiful new bridge and telling you we're moving even faster than expected. Drivers will get an early present – you will be driving on the new bridge by Christmas!"
An exact date for the opening of the new bridge will be determined closer to that date. Gov. Beshear said the Kentucky Transportation Cabinet and crews with Walsh Construction are on budget and ahead of schedule. Officials are confident the bridge will be ready to carry traffic before Dec. 25.
Gov. Beshear also announced plans for a public celebration in advance of opening the bridge to traffic.
"Over the coming decades, hundreds of thousands of people and cars will cross this bridge, but we're creating a once-in-a-lifetime opportunity before we open the bridge to vehicle traffic," said Gov. Beshear. "Before the first car drives across this span, the public will have a chance to walk the new bridge. It's an opportunity to be part of an historic celebration of an extraordinary project. "
Plans for the public celebration will be announced in the coming weeks.
"I am very proud to have sponsored the legislation to build these two bridges," said Representative Larry Clark.  "We are all looking forward to seeing the completed projects that will move Louisville forward."
Walk the Bridge
Details will be announced soon regarding the Walk the Bridge celebration.  The event, planned for December, will offer the public a chance be part of history by walking on the bridge before it opens to traffic. The public is expected to access the bridge from Jeffersonville.
"I couldn't be more excited to have Jeffersonville host this tremendous event," said Mayor Moore. "It's been nearly 52 years since the Kennedy Bridge opened to traffic. Giving the public this opportunity offers all of us a chance to be part of a historic moment. It's going to be a fantastic celebration."
Opening to Traffic
When the new Downtown bridge opens in December, it will temporarily carry two-way traffic. Crews with lead contractor Walsh Construction Co. will then begin extensive improvements to the adjacent John F. Kennedy Memorial Bridge. More than $22 million in improvements are planned, including building a new floor system. It's expected to add decades of new life to the Kennedy Bridge.
All but one lane of the Kennedy Bridge will close when the new bridge opens to traffic. One lane will remain open for about a month to maintain access to I-64 and I-71 North. The entire Kennedy Bridge will then close for about six months. One lane of the Kennedy will reopen first, restoring access to I-64 East and I-71 North. Access to I-64 West will be restored a short time later. The entire Kennedy Bridge is expected to reopen in late 2016.
The revamped Kennedy Bridge will eventually carry six lanes of I-65 South traffic and the Downtown bridge will carry six lanes of I-65 North traffic.
The entire Downtown Crossing – the new cable-stayed bridge, the improved Kennedy Bridge and interstate connections on both sides of the river – is scheduled to be complete in December 2016.
Find more information on the Ohio River Bridges Project at www.kyinbridges.com<http://www.kyinbridges.com>.