Gov. Beshear, Toyota Unveil Kentucky's First Lexus ES 350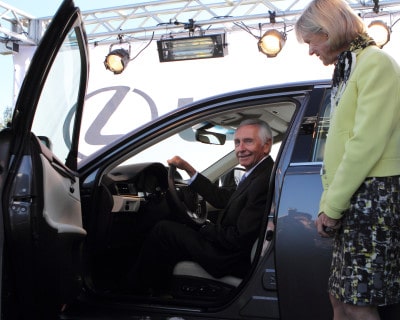 Rep. Larry Clark was the sponsor of HB400 in 2012 that paved the way for the Toyota expansion to build Lexus vehicles in Kentucky.  Georgetown plant produces only US-made Lexus; $360 million expansion added model, 750 new Kentucky jobs
GEORGETOWN, Ky. (Oct. 19, 2015) – Kentucky's automotive industry, for years one of the Commonwealth's greatest strengths, today grew even stronger as Gov. Steve Beshear joined Toyota Motor Manufacturing Kentucky (TMMK) officials and community leaders in Georgetown to unveil the first Lexus  built in the United States.
TMMK's production of the luxury-model Lexus ES 350, the top-selling Lexus sedan worldwide, is creating 750 new Kentucky jobs with an investment of $360 million in the project. The expansion allows TMMK to produce about 50,000 Lexus vehicles per year.
"This is an important day for the Commonwealth," said Gov. Beshear. "For Lexus to have the confidence in our Kentucky workforce to build this magnificent car speaks volumes. These additional 50,000 vehicles are further proof that the state of Kentucky is a great place to do business for the automotive industry. This is why we are the third-largest producer of light vehicles in the U.S."
"To be chosen to build the Lexus ES 350 is a great honor for not only Toyota, but the state of Kentucky," said Wil James, president of Toyota Motor Manufacturing, Kentucky Inc. "It brings us full circle in that we were the first wholly owned plant for Toyota in North America, and, now, we are the first to build Lexus in the United States."
Toyota opened the Georgetown facility, the company's largest manufacturing facility outside Japan, in 1988. In addition to the Lexus ES 350, the Georgetown facility also manufactures the Toyota Camry, Camry Hybrid, Avalon and Avalon Hybrid, as well as 4-cylinder and V6 engines. With Lexus, the Kentucky plant's capacity increases to more than 550,000 vehicles per year. Total employment now stands above 7,500.
It was during a visit by Gov. Beshear to Toyota's headquarters in Japan that the possibility of this significant project came to light. As a proactive measure, Gov. Beshear worked with the Kentucky General Assembly to pass legislation expanding the Kentucky Jobs Retention Act (KJRA), an incentive program designed to spur job creation and significant investments in Kentucky's automotive and parts manufacturing facilities.
KJRA was originally designed to encourage recent investment and job growth by Ford Motor Co. in Louisville. Gov. Beshear recognized the legislation's potential for other automakers and large parts-manufacturing facilities. He signed House Bill 400 in 2012, making the incentive accessible to Toyota and other major companies (click here for more info).
The following spring, Toyota received approval from the Kentucky Economic Development Finance Authority for incentives through the newly expanded KJRA program, paving the way to the $360 million Lexus investment. The project also included other plant upgrade investments totaling $171.2 million. In total, the investment marks the second-largest by Toyota in its Georgetown facility and the largest since an $800 million addition in 1991. 
Across nearly three decades, TMMK established itself as a leader in the Commonwealth's auto industry. In addition to employing thousands of Kentuckians, Toyota has provided collaborative leadership to implement best practices in workforce development and other industry initiatives.
TMMK's training model provided a foundation for the Kentucky Federation for Advanced Manufacturing Education (KY FAME), a statewide apprenticeship-and-collegiate program training a new generation of advanced-manufacturing employees. Also, among many other community and statewide achievements, the company helped found the Kentucky Auto Industry Association (KAIA).
"We are thrilled to welcome the production of Lexus' ES 350 model to Georgetown, as well as the estimated 750 new jobs it will provide," said Sen. Damon Thayer, of Georgetown. "Toyota Motor Manufacturing Kentucky has been a tremendous asset to our state's economy for decades, and we are beyond proud in the continued confidence the company has placed in our community. We appreciate the efforts of everyone who made this project a reality."
"This is a great day for Toyota and all of the Commonwealth, and it marks another major milestone forward for both as we build on a partnership that now extends back 30 years," said Rep. Tom McKee, of Cynthiana. "I have seen firsthand what Toyota has meant to our region during that time and am certainly happy that the company decided to build on that considerable commitment by adding the Lexus line. I want to thank Gov. Beshear and his administration, my fellow legislators and our local leaders for helping Toyota to take this step. Its impact will be felt for decades to come."
"How pleased we are that Toyota and Lexus have the confidence in Georgetown as a place to build the best car in the world," said Georgetown Mayor Tom Prather. "We are excited about the opportunity and welcome Lexus to our community. I think it is appropriate that Lexus is here because Georgetown is a Lexus kind of place. I'm looking forward to our mutual success!"
"This is a big day for all of Scott County and the entire state as we move forward with Toyota in building great cars and ensuring the economic future for many years to come," said Scott County Judge-Executive George Lusby.
TMMK's location in Georgetown helped drive Kentucky's automotive industry to the thriving level it is today. Kentucky is currently home to more than 470 automotive-industry companies that employ nearly 86,000 people. Additionally, ties between Kentucky and the Japanese business community continue to flourish, with Kentucky boasting more than 170 Japanese-owned manufacturing, service and technology facilities that collectively employ more than 41,500 people.