Rep. Larry Clark Reports that Sound Barrier Construction Underway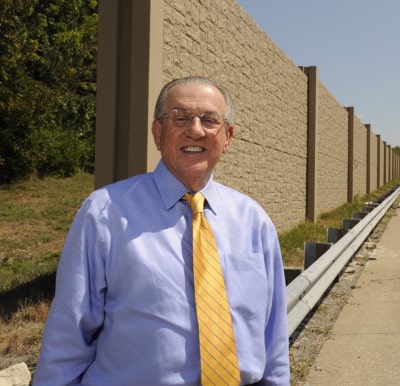 Rep. Clark Secured Funding for Critical I-265 Sound Barrier in 2014 Budget
 Louisville, KY (February 19, 2016) – The Kentucky Transportation Cabinet District 5 Office advises motorists to be aware of impending construction along westbound Interstate 265 (Gene Snyder Freeway) just east of the Smyrna Parkway interchange  (mile point 13.5).  Work is scheduled to begin the week of February 22 to construct a sound barrier on the north side of I-265. 
The sound barrier will extend from Smyrna Parkway to Pennsylvania Run Road (mile points 13.6 to 14.3).  The right lane of westbound I-265 may be closed during construction in the evenings from 8:00 p.m. until 6:00 a.m. the following morning.  Shoulder closures are possible during daytime hours.
The speed limit in the work zone will be reduced to 55 MPH.
Mac Construction and Excavating Inc. was awarded the contract for this project in the amount of $1.5 million.  The work is scheduled for completion in September of 2016.  
The date and duration of this work may be adjusted if inclement weather or other unforeseen delays occur.  Dial 511 or log on to 511.ky.gov for the latest in traffic and travel information in the Commonwealth of Kentucky.  You can also get traffic information for the District 5 counties at www.facebook.com/KYTCDistrict5 and www.twitter.com/KYTCDistrict5 .