Weekend lane closure on Interstate 265 West in Jefferson County for sound barrier installation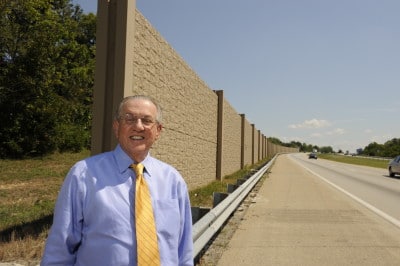 LOUISVILLE, Ky. (May 12, 2016) – The Kentucky Transportation Cabinet (KYTC) advises motorists of a lane closure scheduled for this weekend on Interstate 265 (Gene Snyder Freeway). Contract crews will be working on the foundation for sound barrier construction between Smyrna Parkway and the Pennsylvania Run Road overpass (mile points 13.6 to 14.3).
The right lane of I-265 West will be closed from 6 a.m. on Saturday, May 14 until 5 a.m. on Monday, May 16. Motorists should slow down approaching this work zone and watch for construction vehicles entering and exiting the roadway.
KYTC awarded a contract to Mac Construction & Excavating Inc. for this project in the amount of $1.5 million. Construction is scheduled for completion in September 2016.
The date and duration of this work may be adjusted if inclement weather or other unforeseen delays occur.  Dial 511 or log on to 511.ky.gov for the latest in traffic and travel information in the Commonwealth of Kentucky.  You can also get traffic information for the District 5 counties at www.facebook.com/KYTCDistrict5<http://www.facebook.com/KYTCDistrict5> and www.twitter.com/KYTCDistrict5<http://www.twitter.com/KYTCDistrict5> .