2012 Transportation Budget Report to the Citizens of the 46th District by Representative and Speaker Pro Tem Larry Clark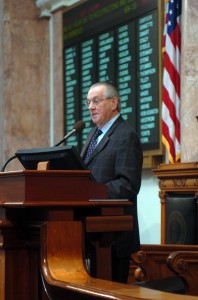 Transportation and infrastructure projects are critical to the quality and growth of the communities within the 46th District. I was able to secure funding in HB 267, the Biennial Construction Plan for our District.  Click here for a detailed listing of these road projects and their funding for your convenience.
Highlighted Projects
Project No. 05-403, the widening of Cooper Chapel Road from 2 to 3 lanes (3rd lane will be a center turn lane) from Ky. 61 to Smyrna Parkway has been included in the road plan for several years.  The project is scheduled to be completed in 2012.
Project No. 05-8705 is a new sound wall along the south side of I-265 from approximately 500 feet west of Cinderella Lane to Smyrna Parkway for approximately 4100 feet. This sound barrier will be funded with state priority funding with design scheduled in 2013 and construction in 2014 at a total cost of $2,055,000.
District 5, Kentucky Transportation Cabinet (KTC) has informed me that Project No. 05-8613, the sound barrier along the south side of the Gene Snyder Freeway between mileposts 13.6 and 14.0, is scheduled for a June letting. The KTC will specify that construction must be complete by December 1, 2012. Watch for construction in that area to begin sometime in mid to late summer.
I have been working closely with Louisville Metro Parks and the KTC on plans for an access road through McNeely Lake Park, Project No. 05-8402. I was successful in securing $7.2 million for this project. The first public meeting to discuss the McNeely Lake Park access road will be held Tuesday, May 8, 2012 from 6:30-8:00 at Wilt Elementary School, 6700 Price Lane. I hope you can attend.
It is a privilege representing you in the Kentucky General Assembly, where I continue to maintain a 100% voting record, working every day on the issues important to the residents of the 46th District and our entire Commonwealth.
If you are interested in looking up or viewing legislation that was considered during the 2012 Legislation Session, please go to www.lrc.ky.gov.